Obituary for Lyn Williams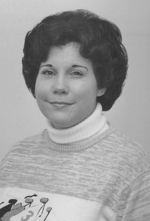 Lynda Sue Williams, 71, of Jefferson City, Mo., passed away on Monday, January 22, 2018 at home while holding her husband's hand. Her final days were spent surrounded by family and friends that Lyn had loved very much.

She was born on June 24, 1946, a daughter of the late Lawrence Hickman Burnett and Lucy Ann Swim. She was married to her longtime friend and love on December 28, 1973 to Dan Williams; they were married for a remarkable 44 years.

A lifelong resident of Jefferson City, Lyn was a 1964 graduate of Jefferson City High School. She started her career as a secretary to the reviser of statutes at the State Capitol in legislative research and later went to work with Westinghouse for 18 years. Lyn retired as an administrative office support assistant with the Division of Labor in 2013.

Lyn enjoyed shopping and bird watching (especially for hummingbirds), but most of all loved spending time with her family. She loved her grandchildren and great-grandchildren dearly. In the final days of her life, Lyn's face would light up the moment her grandchildren and great-grandchildren were near.

Lyn is survived by her husband, Dan Williams; her sons, Shane Duenkel (fiancée, Tina, and son, Dylan) of Jefferson City, and Dustin Williams (wife, Angela) of Riverside, California; her sister, Ollie Frances; her grandchildren, Ashley Arnett (husband, Ross), Amber Duenkel (fiancé, Luke), and Elijah Williams; and great-grandchildren, Kayla Arnett, Alice Arnett, Harley Koenig, Abigail Arnett and Aubree Arnett. All of these she loved and touched deeply.

She was preceded in death by her son, Paul Duenkel, whom she loved dearly; and several siblings.

At her request, no service will be held.

Those desiring may make memorial contributions to the American Cancer Society.

Order Flowers