Obituary for James "Jim" Glover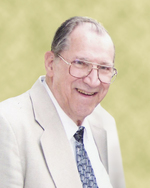 Mr. James L. Glover, age 92 years, of Jefferson City, Mo., passed away Friday, January 19, 2018 at the Arbors at Westbrook Terrace.

Jim was born April 29, 1925 in LaBelle, Mo. the son of Lear and Frances (Smith) Glover. He was married to Esther Wuenscher, who preceded him in death on May 9, 1974. On February 1, 1975 in Hannibal, Mo. he married Geneva Robertson who preceded him in death on October 22, 2013.

Jim proudly served in the United States Navy for twenty years including service in World War II as a Navy Seabee, the Korean War, and the Vietnam War retiring as an instructor and recruiter. Jim was a Gold Star father from the loss of his son, Jimmy, during the Vietnam War.

After his service to our country, Jim was employed as an executive with the Boy Scouts of America for several years. He was a lay minister and filled the pulpit at several churches in the Hannibal area during his retirement.

He has been a resident of the Jefferson City area since August, 2010. In his younger years, he played baseball in the St. Louis Cardinal farm system and played tennis in the Navy. Jim enjoyed woodworking, trout fishing, bow hunting, and counseled young people at several high schools around Hannibal, Mo.

Survivors include: four daughters, Claire Handorf and her husband Lynn of Gladbrook, Iowa, Carolyn McMillen and her husband Jack of Colorado Springs, Colorado, Beverly Barron of Jefferson City, Mo., and Dale Crawford and her husband Randy of Holts Summit, Mo.; nine grandchildren and eighteen great-grandchildren.

He was preceded in death by his parents; his wives, Esther and Geneva; one son, Jimmy Glover; two sisters, Josephine and Billie Dee; and one brother, Buddy.

Visitation will be at the Freeman Mortuary from 9:00 a.m. until 10:00 a.m. Friday, January 26, 2018.

Funeral services will be conducted at 10:00 a.m. Friday, January 26, 2018 in the Freeman Chapel with Chaplain Bart Larson officiating. Graveside services and interment with military honors will be held at 2:00 pm Friday at the Grandview Cemetery in Hannibal, Mo.

In lieu of flowers, memorial contributions are suggested to the Central Missouri Honor Flight or the Alzheimers Disease and Related Disorders Assn.

Funeral arrangements are under the care of Freeman Mortuary.
Order Flowers