Obituary for Janice Bernskoetter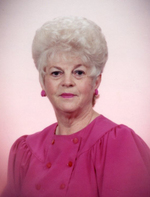 Mrs. Janice J. Bernskoetter, age 81 years, of Jefferson City, Mo., passed away Friday, January 19, 2018 at St. Joseph Bluffs.

Janice was born July 12, 1936 in Eldon, Mo. the daughter of Robert H. "Jack" and Phyllis E. (Stickney) Green. She was married on September 10, 1955 in Jefferson City, Mo. to Herbert A. Bernskoetter who preceded her in death on March 16, 2002.

A lifelong resident of the central Missouri area, Janice was a 1954 graduate of Eldon High School.

A homemaker, Janice had been employed in the Medical Arts Building Café and later at Josh's Restaurant. She also served in customer service with several area retail stores.

She was a member of Concord Baptist Church.

Janice was a kind and generous person who always put other's first. She enjoyed cooking and shopping with family and especially cherished time with her grandchildren. Her grandchildren will always remember the "Days with Grandma" because she knew how to make each moment extra special.

Survivors include: two daughters, Pam Cannon of Jefferson City, Mo. and Julie Mealy and her husband David of New Bloomfield, Mo.; two brothers, Howard Green and his wife Freda of Tuscumbia, Mo. and Danny Green of Eldon, Mo.; one sister, Cindy Schauer and her husband Buzz of Spokane, Wa.; three grandchildren, Nikki Warren, Aaron Mealy, and Bethany Mealy; one great-granddaughter, Aubree Warren; one sister-in-law, Karen Poetker and her husband Jim of Jefferson City, Mo.; and several nieces and nephews.

She was preceded in death by her parents; her husband of 46 years, Herbie; one sister, Alberta Rogers; one brother, Dana Green; a son-in-law, Terry Cannon; and a brother-in-law, Kenny Bernskoetter.

Visitation will be at Freeman Mortuary from 1:00 until 2:00 p.m. Wednesday, January 24, 2018

Funeral services will be conducted at 2:00 p.m. Wednesday, January 24, 2018 in the Freeman Chapel with the Reverend Dr. Monte Shinkle officiating. Graveside services and interment will be held at Resurrection Cemetery.

Funeral arrangements are under the direction of Freeman Mortuary.
Order Flowers