Obituary for Yol Cha Yankausky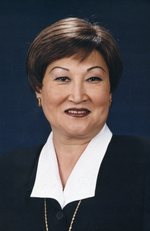 Yol Cha "Pak" Yankausky, age 77 years, of Jefferson City, Mo., passed away Sunday, January 14, 2018 at the Jefferson City Nursing and Rehabilitation Center surrounded by family.

Pak was born June 21, 1940 in Seoul, South Korea, the daughter of Pak Beyong Oak and Sul Jung Sue. She was married to William C. Yankausky, III, on May 1, 1968 in Seoul, South Korea. He preceded her in death on February 13, 2013 in Dixon, MO.

Pak moved to the United States with her husband in 1968 and lived in a variety of locations such as Louisiana, California, and Hawaii, but had happily been a resident of the Jefferson City area since 1977. She was quite fond of seeing all four seasons in Jefferson City, but never truly got used to the bitter cold winters after all these years.

Pak will be remembered as a vivacious and caring Christian. She was a member of the First Baptist Church and active with the Koinonia Sunday School Class. She also enjoyed cooking Korean dishes, knitting, traveling, volunteering at various organizations in Jefferson City and Eldon, and listening to music, both classical and Korean. Most importantly, she cherished time with her family, friends, and Christ.

Survivors include: one son, William "Will" Yankausky, IV of Columbia, Mo.; one daughter, Susan Transue and her husband Jim of Lawrence, Kansas; one sister, Eunyoung Park of South Korea; four brothers, Bong-gyu Park, Suk-gyu Park, Dongsu Park and Dong-gyu Park, all of South Korea; and several nieces and nephews.

She was preceded in death by her parents, her husband, and one brother.

Visitation will be held at Freeman Mortuary from 10:00 a,m. until 11:00 a.m. Friday, January 19, 2018.

Funeral services will be conducted at 11:00 a.m. Friday, January 19, 2018 in the Freeman Chapel. Private graveside services and interment will be held at Longview Cemetery.

In lieu of flowers, memorial contributions are suggested to the Yol Cha Yankausky Memorial Fund, First Baptist Church or the Alzheimer's and Related Disorders Association.

Funeral arrangements are under the direction of Freeman Mortuary.
Order Flowers