Obituary for Marc Bertel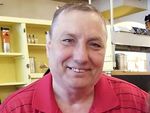 Mr. Marc D. Bertel, age 67 years, of Jefferson City, Mo., died Friday, January 12, 2018 at the Capital Region Medical Center.

Marc was born November 20, 1950 in St. Louis, Mo. the son of Eugene L. and Geraldine M. Draeger Bertel. He was married on May 26, 1979 in Jefferson City, Mo. to Mary Hayes.

Marc graduated from Berkeley High School in St. Louis, Mo. He attended the University of Missouri at St. Louis and graduated from Lincoln University with a degree in Psychology.

A resident of the Jefferson City area since 1977, Marc was employed as a Computer Specialist with D.S.T. Systems for fifteen years prior to his retirement in 2013.

When his sons were younger, Marc enjoyed coaching youth soccer and was Cubmaster of Pack #20 at West Elementary School.

Survivors include: his wife of forty years, Mary Bertel; two sons, Bradford E. Bertel of Jefferson City, Mo. and Benjamin J. Bertel of Jefferson City, Mo.; one daughter, Mary Jane Maurer of Madison, Wisconsin; two sisters, Kathy Wilmas of St. Louis, Mo. and Jeanne O'Brien of St. Louis, Mo.; one sister-in-law, Jenny Bertel of St. Louis, Mo.; one granddaughter, Aubrey Maurer; and numerous nieces and nephews.

He was preceded in death by his parents, one brother, Gerald A. Bertel and one sister, Patricia A. O'Brien.

A memorial service will be conducted at 12:30 p.m. Saturday, January 27, 2018 at St. Jude Catholic Church, 2218 North Warson Rd., St. Louis, Mo. 63114 with the Reverend James Grey officiating.

Friends and family are encouraged to gather after the service to share memories and honor Marc at Fatima Knights of Columbus Hall, 1216 Teson Rd., Hazelwood, Mo. 63042.

In lieu of flowers, memorial contributions are suggested to the American Diabetes Association.

Funeral arrangements are under the direction of Freeman Mortuary.

Order Flowers