Obituary for Alline Whitener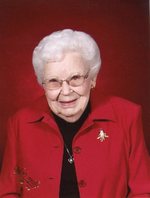 Mrs. Alline I. Whitener, age 98 years, of Jefferson City, Mo., died Friday evening, January 12, 2018 at home surrounded by her family.

Alline was born July 30, 1919 in Eldon, Mo. the daughter of Frank H. and Etta (Cox) Kirby. She was married on April 23, 1939 in Jefferson City, Mo. to Clyde L. Whitener who preceded her in death in April, 1983.

A lifelong resident of the Central Missouri area, Alline attended Jefferson City Public Schools.

In her early years, she was employed with the Southside Dry Goods Store. Later, she and Clyde owned and operated Whitener and Rudroff Distributing Company selling Falstaff and Miller Beers for many years prior to their retirement.

She was a founding member of Our Saviors Lutheran Church. She and Clyde were charter members of the Fraternal Order of the Eagles, Aerie 2693. Alline was a Past Madam President of the Auxiliary of the Fraternal Order of the Eagles, was a Golden Age Eagle and member of the Eagle's Hall of Fame.

Alline enjoyed cooking, sewing, reading, and playing cards. Most importantly, she cherished time with her family and cooked for the family every Tuesday.

Survivors include: two sons, Robert Whitener and his wife Debbie of Jefferson City, Mo. and Donal Whitener and his wife Katie of Jefferson City, Mo.; five grandchildren, Jennifer Parker and her husband Tom, Lisa Glenn and her husband Travis, Josh Whitener and his wife Diana, Emily Roberts and her husband Mark, and Thomas Whitener and his wife Stephanie; and nine great-grandchildren, Eli Glenn, Isaac Glenn, Whitney Glenn, Ben Parker, Adam Parker, Laila Whitener, Ava Roberts, George Whitener, and Daphne Whitener.

She was preceded in death by her parents, her husband, one brother, Donal Kirby and one sister, Fannie Wright.

Visitation will be at Freeman Mortuary from 4:00 until 5:00 p.m. Monday, January 15, 2018 with an Auxiliary of the Fraternal Eagles Memorial Service at 3:15 p.m. in the Freeman Chapel.

Funeral services will be conducted at 5:00 p.m. Monday, January 15, 2018 in the Freeman Chapel with the Reverend Joseph Gregory officiating. Private graveside services and interment will be held at Hawthorn Memorial Gardens.

In lieu of flowers, memorial contributions are suggested to the Senior Nutrition Center.

Funeral arrangements are under the direction of Freeman Mortuary.
Order Flowers