Obituary for Bernie Thoenen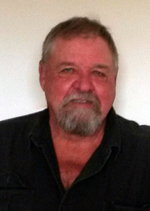 Bernard James Thoenen, age 64 of Centertown, Mo., passed away Wednesday, January 10, 2018 at the University Hospital in Columbia.

Bernie was born on February 26, 1953 in Frankenstein, Mo. a son of Alfred and Evelyn (Clarkston) Thoenen.

Bernie was a tremendously hard working, true outdoorsman and racing fan. He was right at home with a hammer, fishing pole or deer rifle in his hand. He spent his life taking what mother nature provided and making something of it. Whether it was building a home or making wine he was great at it all. No matter the circumstances "It is what it is."

Survivors include: his children, James Thoenen and Lisa Thoenen; siblings, Alfred Thoenen Jr., Kelvin "K" Thoenen, Rita Wood, Dwight "Herb" Thoenen, Joan Thoenen, DeWayne "Wayne" Thoenen, Mary Thoenen, Allen Thoenen and John Thoenen; grandchildren, Jonathan Koelling, Dawson Koelling and Stephanie Thoenen; and great-grandchildren, Blake Koelling, Parker Elliot, and Nicholas Elliot, Jr.

He was preceded in death by his parents and sister, Linda Humphrey.

A Celebration of Bernie's Life will be held at Freeman Mortuary from 4:00 until 7:00pm Wednesday, January 17, 2018.

In lieu of flowers, memorial contributions are suggested to the American Cancer Society or the Missouri Department of Conservation.

Order Flowers