Obituary for Dan Thompson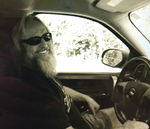 Daniel Joseph Thompson, age 55, of Holts Summit, Mo., passed away Sunday, January 7, 2018 at Boone Hospital with family by his side.

He was born on January 30, 1962 in Jefferson City, Mo. a son of the late James and Geneva (Parris) Thompson. He was married in the eyes of God by Reverend Steve Griggs to Susan Kay Henderson on March 6, 2017 in Holts Summit, Mo. after being together for over 32 years.

A lifelong resident of Holts Summit, Dan attended Jefferson City High School. He lived the majority of his life in the same homestead that his grandparent's began.

Dan worked at numerous places throughout his life including ITT Cable Connectors helping lay fibrotic cable and Great Central Lumber helping build trusses. Dan was employed as a framer with Gastineau Log Homes until ill health forced his retirement.

Dan was an avid outdoorsman who enjoyed hunting, fishing, collecting arrowheads and took great pride in his yard. He was also a talented woodworking craftsman and created many gifts for those he loved. Dan enjoyed cookouts and gatherings with family and friends, especially his Fourth of July celebrations. He loved flint napping and cruising in his 1969 Pontiac Firebird.

Survivors include: his wife, Susan Henderson of Holts Summit, Mo.; three siblings, Sandra Baker Cardens of Baldwin City, Ks., Mildred Guterrez (husband Manuel) of Lee's Summit, Mo. and David Thompson (wife Bobbie) of Holts Summit, Mo.; his granddaughter, Maggie Sue; several nieces and nephews; and numerous good friends.

He was preceded in death by his parents and one brother-in-law, J.T. Cardens.

Visitation will be held at Freeman Mortuary from 4:00 until 7:00 p.m. Wednesday, January 10, 2018. A Celebration of Dan's Life will follow at 7:00 p.m. Wednesday in the Freeman Chapel with the Reverend Bill Dillon officiating.

In lieu of flowers, memorial contributions are suggested to the Dan Thompson Memorial Fund c/o Mid-America Bank in Holts Summit, Mo.

Funeral arrangements are under the direction of Freeman Mortuary.
Order Flowers