Obituary for Sherry Shade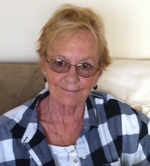 Sherida Sue "Sherry" Shade, age 69, of Jefferson City, Mo., a former Lake of the Ozarks resident passed away Wednesday, January 3, 2018 at Capital Region Medical Center.

Sherry was born December 5, 1948 in Kansas City, Mo. a daughter of Vernon Calvin and Grace Maxine (Warden) Reed. Sherry grew up in Kansas City and graduated from Shawnee Mission East High School. She went on to receive her certification to become certified nurse's aid.

Sherry was married in 1966 to Paul Mahlon Schwab, who preceded her in death in 2013. She later married Charles Randall Clarke in 1979 and he preceded her in death in 2012.

While living in Kansas City, Sherry was employed in home health care and enjoyed time as a caregiver. She moved to the Lake of the Ozarks and began her work as a nurse's aid at Lake Regional Hospital. Later, she owned and operated a house cleaning business at the Lake called "Momma Bear Cleaning" for many years.

Sherry loved the Lake of the Ozarks – being in the sun and around the water. Her happiest times were spending time with her family, especially her grandchildren. She enjoyed being creative and channeled that energy into crafts, such as oil candles. While cooking wasn't necessarily a favorite pastime, she did make the best butterscotch noodle cookies each Christmas.

Survivors include: one daughter, Courtney Kohler (husband Matthew) of Wardsville, Mo.; one son, Alex Schwab (wife Amanda) of Royersford, Pa.; her mother, Grace Reed of Lenexa, Ks.; two brothers, John Reed (wife Janice) of Paola, Ks and Jim Reed of Lenexa, Ks.; one sister, Judith Reed of Kansas City, Mo.; six grandchildren, Tyler Schwab, Nathan Zumbrunnen, Madison Schwab, Jack Schwab, Emma Kohler and Addilyn Kohler; one great-granddaughter, Maeva Schwab; her beloved dog, Precious; and several nieces and nephews.

She was preceded in death by her father, Vernon Reed in 1981 and a daughter, Jennifer "Jenny" Reed Schwab in December 2013.

A memorial service will be announced at a later time.

In lieu of flowers, a memorial fund in Sherry's memory has been established at the Sherry Shade Memorial Fund, P.O. Box 95, Jefferson City, Mo. 65102.

Cremation arrangements are under the care of Freeman Mortuary.
Order Flowers