Obituary for Roger Dye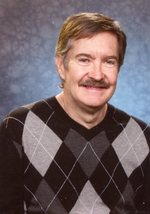 Roger L. Dye, age 65 years, of Columbia, Mo., a former Jefferson City resident passed away Wednesday, January 3, 2018 at S.S.M. Health St. Mary's Hospital.

Roger was born February 10, 1952 in West Plains, Mo.

A resident of the Jefferson City area since 1967, Roger graduated from Jefferson City High School where he played in the Jay Jazz Band. He went on to graduate from Southwest Baptist College in Bolivar, Mo. where he won an award for "Poem of the Year". Roger loved to write poetry and expressed himself with his writings. He did other post-secondary schooling at Columbia College in Columbia, Mo., Sanford-Brown Business College and worked on his Masters at the University of Missouri in Columbia, Mo.

Roger was employed with the Missouri Division of Health and later with the Missouri Division of Employment Security for several years.

He had an outgoing personality and cherished time around friends and family. Roger was fond of baseball, as a St. Louis Cardinal's fan, and football, as a Dallas Cowboys' fan. He enjoyed running and ran in a few marathons. He was blessed with a good voice and liked to sing karaoke.

Above all else, Roger was passionate about his faith in God, read the Bible, and shared his faith with friends.

Survivors include: his mother, Sue Dye of Jefferson City, Mo.; one sister, Sheila Juve (husband Pete) of Holts Summit, Mo.; two aunts, Rose Lee Carrico of Rolla, Mo. and Lois Brueseke of Iowa, Kansas; and a good friend, Scott Sandbothe of Jefferson City, Mo. Roger also met with friends in a weekly men's group. These friends include: Jeff, Sam and Rick.

He was preceded in death by two uncles, Charles Johnson and Joe Johnson.

Visitation will be at Freeman Mortuary from 10:00 until 11:00 a.m. Monday, January 8, 2018.

Funeral services will be conducted at 11:00 a.m. Monday, January 8, 2018 in the Freeman Chapel with the Reverend Lowell Perkins officiating.

In lieu of flowers, memorial contributions are suggested to the New Horizons Community Health Center, 1408 Hathman Place, Columbia, Mo. 65201.

Funeral arrangements are under the direction of Freeman Mortuary.
Order Flowers