Obituary for Don Ivie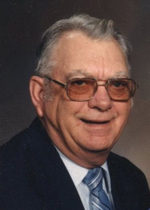 Mr. Donald J. Ivie, age 85, of St. Martins, Mo. passed away peacefully Sunday, December 31, 2017 at SSM Health St. Mary's Hospital.

Don was born on May 6, 1932 in Vienna, Mo. a son of Clay and Ora (Robertson) Ivie. He was married on October 22, 1983 near Russellville, Mo. to Mary Ann Campbell.

He was employed for 24 years in the maintenance department with the Jefferson City Public Schools until his retirement in May 1993. Before his work with the schools, Don had been employed with the Jefferson City Baking Company.

One of his favorite places was being outdoors on the farm, and he loved tending to his horses and cattle until health would not allow. He was passionate about his horses and loved trail rides in his covered wagon with friends and family.

A lifelong resident of the central Missouri area, Don was a member of Mt. Olive Baptist Church near Russellville, Mo.

Don had an outgoing personality and didn't know a stranger. He spent every morning at Stacey's Gas Station in St. Martins visiting with friends and most lunches at the Senior Nutrition Center in California. He truly loved to interact with people and cherished time with his family.

Survivors include: his loving wife, Mary Ann Ivie; one son, Darrell Ivie of Marshall, Mo.; his sister, Ruth Shelden of Jefferson City, Mo.; one sister-in-law, Nancy Ottinger of Jefferson City, Mo.; four grandchildren, Justin Ivie, Jacob Ivie, Christopher Campbell, and Crystal Schneider; six great-grandchildren; and numerous nieces, nephews and many friends.

He was preceded in death by his parents; one daughter, Donna May Miller; and one sister, Nettie Shelden.

Visitation will be held at Mt. Olive Baptist Church from 10:00 a.m. until 11:30 a.m. Saturday, January 6, 2018. Don's memorial service will be held immediately following his visitation at 11:30 a.m. Saturday with the Reverend Alan Earls officiating.

In lieu of flowers, memorial contributions are suggested to Mt. Olive Baptist Church, 8435 Mt Olive Rd, Russellville, Mo. 65074 or the California Nutrition Center, 107 W Versailles Ave, California, Mo. 65018.

Order Flowers