Obituary for August "Augie" Carrender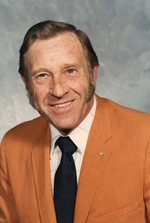 Mr. August Omar Carrender, age 80 years, of Cleveland, Mo., a former resident of Henley, Mo. passed away Wednesday, December 27, 2017 at the Kansas City Veterans' Medical Center.

Augie was born on July 31, 1937 in Henley, Mo. a son of James and Lydia Belle (Jukes) Carrender. Augie was raised in Hickory Hill and was a 1954 graduate of Eugene High School.

He served in the United States Navy from 1955 until he was honorably discharged in July 1963.

After his service to our country, Augie moved to Cleveland, Mo. where he worked as a mechanic for over 35 years until his retirement. He worked for the majority of those years in Overland Park at the Jeep/Chrysler Dealership.

During his time in Cleveland, Augie met Pauline Cleveland and they were extremely close for over 50 years. They had an amazing relationship and he cared for her family as his own.

He was passionate about being a member of the Cleveland Lodge No. 651, A.F. & A.M. in Cleveland, Mo. and the Kansas City Shriner's Club.

Augie loved to be outdoors and was an avid fisherman. He cherished time at his cabin on Pomme de Terre Lake and loved when family and friends would visit. He always enjoyed pheasant hunting in Kansas with his brother and nephews and cheering on the Kansas City Chiefs with his neighbors.

Survivors include: step-son, Dale Cleveland (wife Carol) of San Antonio, Tx.; two sisters-in-law, Dolores Carrender of Jefferson City, Mo. and Patricia Carrender of Wardsville, Mo.; a step daughter-in-law, Sharon Cleveland; two step-grandchildren, Michelle Landa and Terri Landa; good friends and neighbors, Sonny and Joe; and numerous nieces, nephews and cousins.

He was preceded in death by his longtime significant other, Pauline; a step-son, Robert Earl Cleveland; one sister, Elnora Mathis; seven brothers, Roscoe, Dean, Gilbert, Lawrence, Leon, Scott and Gene.

Visitation will be held at Freeman Mortuary from 12:00 noon until 1:00 p.m. Sunday, December 31, 2017 with a Masonic Service held at 11:45 a.m. in the Freeman Chapel.

Funeral services will be conducted at 1:00 p.m. Sunday, December 31, 2017 in the Freeman Chapel. Graveside services and interment with military honors will be held at Hickory Hill Cemetery in Hickory Hill, Mo.

In lieu of flowers, memorial contributions are suggested to the Shriners Hospitals for Children, 2900 Rocky Point Drive, Tampa, Fl. 33607.

Funeral arrangements are under the direction of Freeman Mortuary.
Order Flowers