Obituary for Kenneth "Kenny" Mueller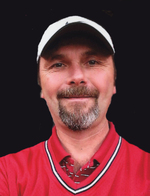 Kenneth Michael "Kenny" Mueller, age 48 years, of Jefferson City, Mo., passed away Wednesday, December 20, 2017, at his home.

He was born on April 19, 1969 in Jefferson City, Mo. the son of Robert Michael and Elizabeth Ann (Welschmeyer) Mueller.

A lifelong resident of the central Missouri area, Kenny was a 1988 graduate of Jefferson City High School and also attended Nichols Career Center.

He was employed as a route driver for the past 15 years with Cowley Distributing and had previously been employed by Scholastic, Inc. for 10 years.

Kenny loved being outdoors and that was reflected in his hobbies and interests. His passion was playing golf and he could be found at Railwood Golf Club during Men's Night and other times. He liked the challenge of playing different golf courses around Missouri. Kenny also enjoyed fishing, hunting, camping, rock climbing and spending time on both the Gasconade and Osage rivers. Some of his happiest times were cooking and sitting by a campfire at the cabin listening to music with family and friends.

He cherished time spent with his family, especially coaching, fishing and golfing with his children. His siblings enjoyed fun day trips and dinners together. He loved working with his hands, especially woodworking, and his family knew he was always available to help them with projects.

Survivors include: his son, Brandon Mueller and his girlfriend Shelby of O'Fallon, Mo., his daughter, Courtney Mueller of Jefferson City, Mo.; one brother, Bobby Mueller and his wife Denise of Jefferson City, Mo.; three sisters, Debby Kliethermes and her husband Winston of Jefferson City, Mo., Cindy James of Jefferson City, Mo., and Cathy Sestak and her husband Phillip of Freeburg, Mo.; a lifelong friend, Tony Laughlin; the mother of his children and longtime friend, Michelle Mueller; numerous nieces and nephews; and his two dogs, Diesel and Misty.

He was preceded in death by his parents; a sister, Margie Schmitz; a nephew, Hank James; and a brother-in-law, Sterling James.

Visitation will be at Freeman Mortuary from 5:00 until 7:00 p.m. Friday, December 22, 2017 with a prayer service being conducted at 4:15 p.m in Freeman Chapel.

A Mass of Christian Burial will be conducted at 10:00 a.m. Saturday, December 23, 2017 at Immaculate Conception Church with the Reverend Cesar Anicama officiating. Graveside services and interment will follow at Resurrection Cemetery.

In lieu of flowers, memorial contributions are suggested to the Mueller Children Educational Fund.

Funeral arrangements are under the direction of Freeman Mortuary.

Order Flowers