Obituary for Andy Doll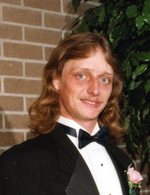 Andrew G. Doll, age 53 years, of Eldon, Mo., formerly of Jefferson City passed away Saturday, December 16, 2017 at his home.

Andy was born on November 26, 1964 in Clinton, Mo. the son of Ellis Dean and Margaret (Stoermer) Doll. He was married on September 11, 2009 in Jefferson City, Mo. to Kathy A. Rehagen.

A lifelong resident of the central Missouri area, Andy attended Trinity Lutheran School and Jefferson City High School.

Andy began working in the food industry at the age of 16 and later transitioned into the construction industry as a laborer and progressed into an excellent concrete finisher. He continued in the construction field until a back injury forced his early retirement.

He was confirmed at Trinity Lutheran Church and was also a member of the church.

Andy was talented in mechanical repair of appliances and cars and could fix anything with his hands. He was always willing to lend a helping hand for neighbors or friends in need of auto repairs or even a lawn needing mowed. He was passionate about all animals and enjoyed time cooking, gardening, and planting flowers at home. Most importantly, he cherished his time with family, and he loved to attend family functions and school events to support his grandchildren, nieces and nephews.

Survivors include: his loving wife, Kathy Doll; his mother, Marge (Scott) Mayhew of Jefferson City, Mo.; three children, Amie Doll, Brett Doll, and Miranda Doll; two brothers, Dean (Rebecca) Doll of Cole Camp, Mo. and Travis (Gayle) Doll of Tebbetts, Mo.; one sister, Susan (James) Stark of New Bloomfield, Mo.; two step-children, Heather (Mick) Kirchner and Mitchell (Becky Schuessler) Wideman; ten grandchildren; and numerous nieces and nephews.

He was preceded in death by his father and a half-sister, Sheryl Dean Rayburn.

Visitation will be at Freeman Mortuary from 4:00 until 7:00 p.m. Wednesday, December 20, 2017.

Funeral services will be conducted at 11:00 a.m. Thursday, December 21, 2017 in the Freeman Chapel with the Reverend Samuel Powell. Graveside services and interment will be held at Hawthorn Memorial Gardens.

In lieu of flowers, memorial contributions are suggested to Andrew Doll Memorial Fund.

Funeral arrangements are under the direction of Freeman Mortuary.
Order Flowers