Obituary for Marvin Deatherage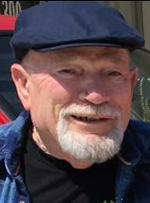 Mr. Marvin Paul Deatherage, age 75 years, of Jefferson City, Mo., passed away Thursday, December 14, 2017 at Capital Region Medical Center surrounded by his family.

Marvin was born September 11, 1942 to Sherman Randolph and Essie (Bray) Deatherage in Galey, Oklahoma. Marvin spent his childhood in Oklahoma before moving to Arizona and participating in the rodeo. This is where Marvin met his soul mate. Marvin was married on April 28, 1969 to Virginia M. Kaver, who preceded him in death on June 4, 2014. They cherished an amazing 45 years of marriage.

A resident of the Jefferson City area since 1969, Marvin was employed with Von Hoffman Press, Central Electric, and the Missouri Department of Corrections. After twenty years of service, he retired as a Corrections Officer in 2011.

Music was an important part of Marvin's life. He loved playing his guitar and singing in a family band. He was an avid St. Louis Cardinal fan and loved traveling, riding his motorcycle, and barbeques with the family. His gift of innovation is expressed through all the items he created in woodworking, drawings, and crafts. Family was always priority in Marvin's life. He loved to support and spoil his children and grandchildren. He will always be remembered for his quick wit and great sense of humor.

Survivors include: three children, Tony Pitts of Holts Summit, Mo., Susan Bates of Holts Summit, Mo., and Cindy Reeves and her husband Ernest "Sonny" of Jefferson City, Mo.; one brother, Wayman Deatherage of Shawnee, Oklahoma; eleven grandchildren, twenty-three great-grandchildren, one great-great-grandson; and numerous nieces and nephews.

He was preceded in death by his parents; his loving wife, Virginia; three brothers, Hubert Deatherage, Joe Deatherage, and an infant brother, Denver Deatherage; and three sisters, Georgia Lee "G.G." Hubburd, Norene Tucker, and Dorothy "Dot" Bittle.

Visitation will be at Freeman Mortuary from 10:00 until 11:00 a.m. Tuesday, December 19, 2017.

Funeral services will be conducted at 11:00 a.m. Tuesday, December 19, 2017 in the Freeman Chapel with the Reverend Joseph Corel officiating. Graveside services and interment will be at Resurrection Cemetery.

In lieu of flowers, memorial contributions are suggested to St. Judes Children's Hospital.

Funeral arrangements are under the direction of Freeman Mortuary.
Order Flowers