Obituary for Clarence "C.D." McKinney Jr.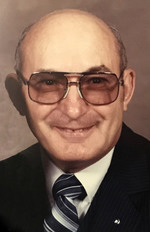 Mr. Clarence D. "C.D." McKinney Jr., age 93 years, of Jefferson City, Mo., passed away on Friday, December 1, 2017 with his wife Rae and his family by his side.

C.D. was born August 9, 1924 in Grandin, Mo. the son of Clarence D. Sr. and Nora Mae Fisell McKinney. He was married on May 20, 1949 in Van Buren, Mo. to Elma Rae Jackson.

C.D. was a 1941 graduate of Van Buren High School and a 1953 graduate of Southeast Missouri State University in Cape Girardeau. He received his Masters in Administration in Education from the University of Missouri at Columbia in 1957.

He served in the Missouri Home Guard during World War II and was discharged as a Master Sergeant.

C.D. was a teacher and principal at Van Buren for several years and later as a principal at the Ste. Genevieve Elementary and Junior High School.

A resident of the Jefferson City area since 1964, C.D. served as principal at East Elementary School from 1964 until 1966. He was then employed as the Assistant Director of the Chapter 1 Program for the Missouri Department of Elementary and Secondary Education until his retirement on January 1, 1990.

C.D. was raised on the Current River and from a young age, learned how to fish and canoe. From those experiences, he was always jumping at the chance to fish and white water canoe, especially if Rae was willing to go along. C.D. and Rae traveled to all fifty states and all the providences of Canada. In his younger days, he participated in sports and as he aged, he watched sports on television. He also enjoyed playing card games and reading.

C.D. was a man of deep faith and was a deacon and active member of the First Baptist Church for over fifty years. He was a fifty year charter member of the Jefferson City Camp of The Gideons International and was passionate about placing the word of God in the hands of others. He was also a seventy year member of the Masonic Lodge.

Survivors include: his wife of sixty-eight years, Rae McKinney; two children, Mary "Bea" (George) Dehn of Marshall, Mo. and Clarence D. "Dan" III (Beverly) McKinney of Hermann, Mo.; three grandsons, Christopher (Tonya) Dehn, Stephen (Kimberly) McKinney, and ClarenceD. McKinney IV; five great-grandchildren, Hailey McKinney, Adelaide McKinney, Elijah McKinney, Colton Dehn, and Wyatt Dehn; two sisters-in-law, Elsa McDowell of Ellsinore, MO. and Delma McKinney of Knoxville, TN; and several nieces and nephews.

He was preceded in death by his parents; one grandson, Brian Dehn; three sisters, June Dudycha, Kathleen Maberry, and Nancy Bowen; and one brother, John McKinney.

Visitation will be at the First Baptist Church from 10:00 until 11:00 a.m. Tuesday, December 5, 2017.

Funeral services will be conducted at 11:00 a.m. at the First Baptist Church with the Reverend Dr. Doyle Sager officiating. Graveside services and interment will be held at 11:00 a.m. Wednesday at the Van Buren City Cemetery, Van Buren, MO.

In lieu of flowers, memorial contributions are suggested to The Gideons International, P.O. Box 97251, Washington, DC 20090-7251 or the First Baptist Church, 301 E. Capitol Avenue, Jefferson City, Mo. 65101.
Order Flowers