Obituary for Jean Maloney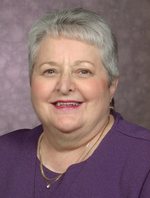 Mrs. Shirley Jean D'Agostin Maloney, age 84 years, of Jefferson City, Mo., died Friday, December 1, 2017, at home surrounded by her family.

Jean was born September 26, 1933, in St. Louis, Mo., the daughter of Charles and Mary (Corradini) D'Agostin. She was married on August 3, 1968, in St. Louis, Mo. to Richard A. Maloney.

Jean was raised in St. Louis, Mo. and graduated from McKinley High School in 1950.

A resident of Jefferson City since 1969, Jean was employed with the Missouri Department of Transportation for 24 years and retired in 2001 with the title of executive secretary. Before moving to mid-Missouri, Jean worked at the Monsanto headquarters in Creve Coeur, Mo.

She was an avid supporter of her husband's coaching career while raising three children and proudly attending many of his basketball games for over 25 years. Family was always her primary focus, loving and caring for her husband, children, and grandchildren.

Jean was a member of the Cathedral of St. Joseph. She enjoyed watching hummingbirds from her window and walking the beaches of Florida. She was also an avid St. Louis Cardinals fan.

Survivors include: her husband of forty-nine years, Rich Maloney; three children, D. Dawn Conlisk (husband Dan) of Chesterfield, Mo., R. Shawn Maloney of Milpitas, California, and C. Shannon Maloney (wife Lisa) of Jefferson City, Mo.; one sister, Gloria Reece of St. Louis, Mo.; six grandchildren, Clark Conlisk, Clare Conlisk, Quinn Conlisk, Connor Maloney, Alayna Maloney, and Mary Kate Maloney; one brother-in-law, Dan Prosperi of St. Louis, Mo.; and sisters-in-law, Marian Ann Lenz and Kathleen Lenz, both of Bunceton, Mo., as well as a multitude of nieces and nephews.

She was preceded in death by her parents; one sister, Derna Prosperi; and one brother-in-law, Donald Reece.

Visitation will be at Freeman Mortuary from 9:30 until 11:30 am Tuesday, December 5, 2017.

Funeral services will be conducted at 11:30 a.m. Tuesday, December 5, 2017, in the Freeman Chapel with the Reverend Gregory Meystrik officiating. Graveside services and interment will be held at Riverview Cemetery.

In lieu of flowers, memorial contributions are suggested to the St. Joseph Cathedral School "Gymnasium/Fine Arts Center Expansion" fund, St. Joseph Cathedral Parish Office, 2305 West Main Street, Jefferson City, MO 65109.

Funeral arrangements are under the direction of Freeman Mortuary.
Order Flowers