Obituary for Reta Raithel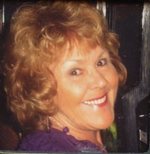 Mrs. Loreta "Reta" J. Raithel, age 71 years, of Jefferson City, Mo., passed away Thursday, November 30, 2017 at home surrounded by her family.

Reta was born April 29, 1946 in Fulton, Mo. the daughter of Thomas and Burtie (Greenwood) Day. She was married in 1978 in Jefferson City, Mo. to Philip Raithel.

A resident of the central Missouri area for most of the life, Reta was raised in Fulton and attended Fulton High School. She had a strong work ethic, beginning work at the age of 12 at a restaurant in Fulton.

She lived briefly in Fountain Valley, California before returning to Jefferson City. Reta was employed at the Callaway Nuclear Plant for several years and later with the Missouri Department of Revenue under the Motor Vehicle Division from 1978 until her retirement in 1986 due to ill health.

She supported several veterans' organizations.

Reta loved to dance, travel and spend time in her garden. She and Phil traveled throughout the continental United States and she cherished any time around her family.

Survivors include: her life's mate of thirty-nine years, Philip Raithel; one daughter, Rhonda Renee Leeper of Jefferson City, Mo.; two grandchildren, Whitney Jones and Brett Jones, both of Jefferson City, Mo.; three great-grandchildren, Gavin Tucker, Gage McDonald, and Emma Jones; a step-son, Joseph Raithel of Jefferson City, Mo.; two step-grandsons, Ben and Seth Raithel of Jefferson City, Mo; one sister-in-law, Harriet Lepper of Jefferson City, Mo.; and numerous nieces and nephews.

She was preceded in death by her parents; two brothers, Norman Day and Gerall Day; an infant brother, Billy Day; and two sisters, Christina Day and Oveta Day.

Visitation will be at the Freeman Mortuary from 10:00 until 11:00 a.m. Wednesday, December 6, 2017.

Funeral services will be conducted at 11:00 a.m. Wednesday, December 6, 2017 in the Freeman Chapel. Graveside services and interment will be at the Mt. Carmel Cemetery near Fulton, Mo.

In lieu of flowers, memorial contributions are suggested to any veterans' organization; Hospice Compassus, 600 Monroe Street, Suite 100, Jefferson City, Mo. 65101; or a charity of the donor's choice.

Funeral arrangements are under the direction of Freeman Mortuary.
Order Flowers