Obituary for Joseph "Joe" Brodhacker Jr.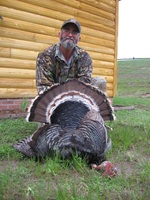 Joseph Louis Brodhacker, Jr., 61, of Columbia, Missouri, passed away on Wednesday, November 29, 2017 at home surrounded by his family.

Joe was born May 13, 1956 in St. Louis, Missouri, a son of Joseph L. Sr. and Phyllis J. (Wilkerson) Brodhacker. He was married on July 10, 1976 in Jefferson City, Missouri to Cynthia A. Schuyler.

A lifelong resident of the Central Missouri area, Joe was a Master Plumber by trade. He was the proud owner and operator of Joe's Service Company until his retirement.

Joe was an avid outdoorsman who enjoyed hunting, fishing and trapping. He was a member of the National Wild Turkey Federation and accomplished the Grand Slam award. Joe was also a talented artist and created many drawings for those he loved. Joe shared his artistic ability and passion for art with his daughter. Joe took pride in passing along his knowledge of plumbing, hunting, fishing and trapping to his sons. He enjoyed gatherings with family and friends.

Survivors include: his wife of forty-one years, Cynthia Brodhacker; four
children: Shannon M. Brodhacker of Columbia, Missouri, Joseph S. (Shannon E.) Brodhacker of Hartsburg, Missouri, Ryan (Rachael) Brodhacker of Columbia, Missouri and Jess (Holly) Brodhacker of Columbia, Missouri; one brother, David (Tracy) Brodhacker of San Antonio, Texas; one sister, Linda (Jim) Gash of Columbia, Missouri; and three grandchildren: Leni Brodhacker, Joseph R. Brodhacker, and Lucy Brodhacker.

He was preceded in death by his parents and two brothers, Fredric Brodhacker and Jon Brodhacker.

Funeral services will be held at 2:00 p.m. Sunday, December 3, 2017 in the Freeman Chapel with the Reverend Kathie Jackson of First Presbyterian Church of Columbia, officiating. Graveside services will follow at Hawthorn Memorial Gardens.

In lieu of donations, the family asks that flowers be sent to Freeman Mortuary in honor of Joe's love of gardening.

Order Flowers