Obituary for Olin Hiatte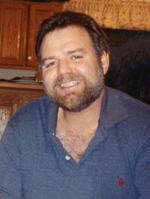 Mr. Olin D. Hiatte, age 53 years, of Jefferson City, Mo., passed away Monday, November 20, 2017 at his home.

Olin was born December 12, 1963 in Jefferson City, Mo. the son of Olin F. and Margaret A. (Booth) Hiatte.

A lifelong resident of the Jefferson City area, Olin graduated from Jefferson City High School.

He was employed with the Butternut Bread Company for several years until ill health forced his retirement in 2007.

Olin was a member of the International Brotherhood of Teamsters, Local 833.

He enjoyed fishing and the outdoors, muscle cars and trucks, and cooking and grilling for family and friends.

Survivors include: his children, Steven Hiatte and his wife Samantha of Jefferson City, Mo., Cole Hiatte of Jefferson City, Mo., and Madesen Hiatte of Centertown, Mo.; his mother, Margaret Hiatte of Holts Summit, Mo.; three sisters, Delores Gilpin and her husband Richard of Holts Summit, Mo., Debbie Smith of Holts Summit, Mo., and Brenda Leydens of Holts Summit, Mo.; and five grandchildren, Ethan Hiatte, Sawyer Bradberry, Lucas Hiatte, Carson Hiatte, and Cooper Hiatte.

He was preceded in death by his father.

Visitation will be held at Freeman Mortuary from 10:00 until 11:00 am Saturday, November 25, 2017.

Funeral services will be conducted at 11:00 am Saturday in the Freeman Chapel with Celebrant Gara Loskill. Graveside services will follow at Hawthorn Memorial Gardens.

In lieu of flowers, memorial contributions are suggested to the Olin Hiatte Memorial Fund.

Order Flowers