Obituary for Willard Brann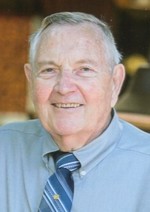 Mr. Willard M. "Will" Brann, age 89, of Jefferson City, Mo. passed away of old age and general cussedness on Saturday, November 18, 2017 at his home.

Will was born April 12, 1928 on a farm near South Haven, Kansas, a son of John W. and Mona (Pearce) Brann. He was married in June 8, 1957 in Joplin, Mo. to Anita Kay Armstrong who survives.

Will graduated from South Haven High School in 1946. He served in the United States Army during the Korean War from 1947 until honorably discharged in 1954. Will received his Bachelor of Science Degree in Civil Engineering from Kansas State University in 1957.

He was employed by Missouri Department of Transportation for over 30 years as a civil engineer. He started with MODOT in Joplin, Mo. from 1957 until 1973 when he was transferred to Jefferson City, and worked from 1973 until his retirement in 1990 living in Jefferson City.

Will was a member of the First United Methodist Church. He volunteered with the American Red Cross and was proud to be awarded for giving over 300 platelets. He was active with his Green Investment Club.

He enjoyed reading especially about the Civil War and was an avid supporter of the Kansas State University Wildcats, Kansas City Chiefs and the St. Louis Cardinals. He cherished spending time with family and was known for his witty Christmas poems. He loved working out in his yard and tending to his bird feeders.

Survivors include: three daughters, Kathy Brann and husband Gary Esneault of Nashua, New Hampshire, Deborah Farmer and husband Curt of Peoria, Arizona and Pamela Ford and husband Robert of Kansas City, Mo.; one sister, Rosemary Overton and husband Tom of Ponca City, Oklahoma; four grandchildren, Blake Farmer and wife Glysa, Gena Ford and husband Robert Suske, Patrick Ford and Kayla Ford; and numerous nieces and nephews who knew him as "Uncle Billy".

He was preceded in death by his parents; four brothers, Robert Brann, John Wesley Brann, James Brann and Wendell Brann; and three sisters, Flora Zimmerman, Phyllis Cox, and Violet Cox.

Visitation will be held at Freeman Mortuary from 10:00 am until 11:00 am Tuesday, November 28, 2017.

A celebration of life will be held at 11:00 am in the Freeman Chapel with the Reverend Daniel Hilty officiating. Military honors will follow his service at the funeral home.

In lieu of flowers, memorial contributions are suggested to the First United Methodist Church, 201 Monroe Street, Jefferson City, Mo. 65101 or Hospice Compassus, 600 Monroe Street, Suite 100, Jefferson City, Mo. 65101.

Funeral arrangements are under the direction of Freeman Mortuary.

Order Flowers