Obituary for Ronald Langendoerfer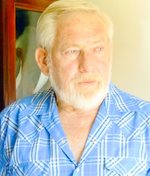 MSGT Ronald D. Langendoerfer, Sr. (USAF, ret.) age 76 years, of Centertown, Mo., departed this life on Friday, November 10, 2017 peacefully at his home.

He was born July 5, 1941 in Jefferson City, Mo. the son of Gideon O. and Ethel M. (Brandenburg) Langendoerfer. He was married in February 1962 to Geraldine J. "Gerri" Gaume, who survives in LaVista, Nebraska. He cherished time with his longtime significant other, Arlene Nemitz, who preceded him in death in 2007.

Ron graduated from Kansas City Bible School and following graduation, he entered the United States Air Force in 1960. His service took him all over the world, seeing action during the Cuban Missile Crisis and the Vietnam War. He retired as the rank of Master Sergeant and was a Maintenance Supervisor when he was honorably discharged in 1980 after 20 years of service.

After his service he attended Riddle College to get his A & P license. He also attended Bellevue College, Lincoln University, East Central College, and the University of Central Missouri to attain additional credits.

After seeing the whole world from forty thousand feet, he wanted to see the United States on the ground after seeing Alaska, Guam, Puerto Rico, and Iceland.

He began truck driving with Wells Fargo Armored Car in Nebraska and Iowa and then drove for C.R. England from coast to coast which covered the lower forty-eight states. He returned to Missouri to teach aviation at Linn State Technical College and after ten years, began truck driving for Jack's Truck Rental until his retirement in 2015.

Ron was a life-long member of the Veterans of Foreign Wars and enjoyed woodworking, gardening, and traveling. Most importantly, Ron loved time spent with his family, especially over his favorite holiday, the fourth of July.

Survivors include: five children, Doronda Farrell (husband Marty) of Papillion, Nebraska, Deanna Langendoerfer of North Bend, Nebraska, Debora Dofner (husband Danny) of Council Bluffs, Iowa, Ronald D. Langendoerfer, Jr. (wife Belinda) of Papillion, Nebraska, and Carla Shipe of Wichita, Kansas; two sisters, Dr. Betty Zaring of Oklahoma and Barbara Wooten (husband Clinton) of Lake City, Florida; two brothers, William "Bill" Langendoerfer of New Mexico and Leonard Langendoerfer (wife Deborah) of Jefferson City, Mo.; 9 grandchildren, Marty Farrell III, Michael Farrell, Tyler Langendoerfer, Brittany Langendoerfer, Bryce Shipe, Carissa Shipe, Jessica Gammon, Jacquelyn Gammon and Jaycee Gammon; and 11 great-grandchildren.

He was preceded in death by parents; his significant other, Arlene Nemitz; one brother, Robert Langendoerfer; one sister, Carmen Oyler; and two brothers-in-law, Robert Zaring and John Oyler.

Visitation will be at Freeman Mortuary from 12:00 noon until 2:00 p.m. Wednesday, November 15, 2017.

Funeral services will be conducted at 2:00 p.m. Wednesday, November 15, 2017 in the Freeman Chapel with the Reverend Lisa Duetsch. Graveside services and entombment with military honors will be held in the Mausoleum of Hawthorn Memorial Gardens.

In lieu of flowers, memorial contributions are suggested to the Jackie Gammon Scholarship Fund c/o Farmers Bank in Lohman.

Funeral arrangements are under the direction of Freeman Mortuary.
Order Flowers