Obituary for James Clark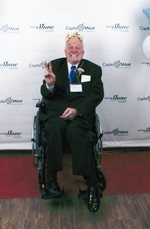 Mr. James Scott Clark, age 63 years, of Jefferson City, Mo. passed away Wednesday, November 8, 2017 at River City Living Community.

He was born on July 18, 1954 in Elston, Mo. a son of the late Vernie C. and Julia M. (Woods) Clark. Jim remained in his hometown of Elston until moving to Jefferson City in 1992, where he resided with Cole County Residential Services, Inc. (Tanner Bridge Group Home).

Jim started his employment with Columbia Brick and Tile and later worked at Capital Projects.

Jim was cared for and loved by many. He lived life to the fullest through simple pleasures; chatting, laughing, singing and telling jokes. He enjoyed playing Solitaire, Checkers, Trouble, Uno and going to the Clarke Senior Center to play Bingo where he also met, ate lunch and mingled with others. He also enjoyed his daily visits and interactions with others at the United Cerebral Palsy Heartland Gibbs Center for Independence. However, his favorite times were when he and his housemates enjoyed bowling and watching his favorite TV shows: The Golden Girls, The Andy Griffith Show, Gun Smoke, and Little House on the Prairie. Jim always had a smile on his face and was known as a jokester. He will truly be missed by his family and Tanner Bridge family.

Jim's family would like to thank the staff and residents of Tanner Bridge Group Home for their excellent care, friendship and love they all gave Jim for the past 25 years.

Survivors include: three brothers, Bernard Clark (Sally) of Holts Summit, Mo., Vernie Gail Clark of Jefferson City, Mo. and Ron Clark of Elston, Mo.; two sisters, Mae Burgess of Sedalia, Mo. and Addie Parish (Ralph) of California, Mo.; and numerous nieces and nephews.

He was also preceded in death by his son, James "Jimmy" Clark; his twin brother, Steven Clark; two brothers, Charles Clark and Cleo Clark; and a sister, Pearl Clark.

Visitation will be held at Freeman Mortuary from 10:00 until 11:00 am Tuesday, November 14, 2017.

Funeral services will be conducted at 11:00 am Tuesday in the Freeman Chapel with Celebrant Gara Loskill officiating. Graveside services will follow at Hawthorn Memorial Gardens, where he will be laid to rest next to his twin brother, Steven.

In lieu of flowers, memorial contributions are suggested to the Cole County Residential Services, Inc. or Capital Projects.

Funeral arrangements are under the direction of Freeman Mortuary.

Order Flowers