Obituary for Darlene Clark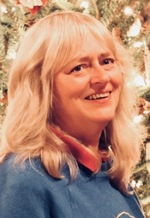 Mrs. Darlene Gaye Clark, age 66 years, of Holts Summit, Mo., passed away Tuesday, November 7, 2017 at her home.

Darlene was born February 7, 1951 in Jefferson City, Mo. the daughter of Charles W. and Wanda Mae Rich Hurley. She was married on March 21, 1975 in Jefferson City, Mo. to James Michael Clark.

A lifelong resident of the Jefferson City area, Darlene was a 1969 graduate of Jefferson City High School and then graduated from Columbia College.

A homemaker, Darlene had been employed with the Missouri Conservation Dept., the Missouri State Highway Patrol, and with the Missouri Division of Employment Security.

Darlene was a member of the First Baptist Church and two hiking clubs. She enjoyed art, photography, and nature, especially hiking and spending time at the Runge Nature Center.

Survivors include: her husband of forty-two years, Mike Clark; one son, Michael Robert Clark of Springfield, Mo.; four sisters, Charlene Ann Branson of Jefferson City, Mo., Cynthia Mae Prudden and her husband Doug of Centertown, Mo., Diana Sue Richey and her husband Phil of Escondido, California, and Stacey Lynn DeLong and her husband Jeff of Jefferson City, Mo.; one brother, Michial Wayne Hurley and his wife Patti of Belton, Mo.

She was preceded in death by her parents and one son, Christopher Roger Clark on July 4, 1983.

Visitation will be at Freeman Mortuary from 1:00 until 3:00 pm Sunday, November 12, 2017.

Funeral services will be conducted at 10:30 am Monday, November 13, 2017 at First Baptist Church with the Reverend Dr. Doyle Sager officiating. Interment will be at Union Hill Cemetery in Holts Summit, Mo.

In lieu of flowers, memorial contributions are suggested to First Baptist Church.

Funeral arrangements are under the direction of Freeman Mortuary.


Order Flowers