Obituary for Jack McAlexander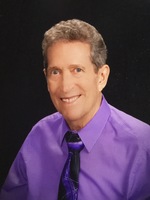 Mr. Jack H. McAlexander, age 77 years, of Jefferson City, Mo., stepped into Eternal Life Monday, November 6, 2017 at Villa Marie Nursing Center. Deborah, his wife of thirty years was at his side.

He was born on May 12, 1940, in Geyer Springs, Arkansas, the son of Eugene and Millie (Blakely) McAlexander. He was married to Deborah Ann (Adams) McAlexander on May 15, 1987, at Blackbeard's Castle in St. Thomas, Virgin Islands.

Jack graduated from high school in Portland, Oregon and completed his associate's degree in business at a junior college in California.

He was employed as an advertising specialist and sales executive with the Los Angeles Times for over 20 years. After moving to central Missouri in 1989, he continued in sales with Whiteco Advertising, Prime Star, and Direct TV.

When Jack made his commitment to follow Christ twenty years ago, he was baptized into the fellowship of Concord Baptist Church, and continued in faithful service there.

Jack was a loving, praying husband, father and a caring, supportive friend. His quick wit, sense of humor, and ability to make others laugh will be missed by those who knew and loved him.

Blessed with a creative mind, he genuinely enjoyed using his talents to paint, to write poetry, and to make music. He will be remembered for playing his guitar and singing from his vast repertoire for his family and friends. A skilled handyman, Jack proudly designed and completed many home improvement projects and created flower beds and gardens for his wife. He enjoyed exercising his two beagles, Belle and Dolly, playing with his two kitties, Tiggy and Ziva, tending his many bird feeders and hummingbird stations, and going fishing, as he drew comfort from nature and found great peace in being outdoors.

Survivors include: his wife, Deborah of Jefferson City, Mo.; two daughters, Kimberly McAlexander of San Diego, California and Crystal McAlexander Anderson (husband Michael) of Eugene, Oregon; one grandson, Bear Crosby Anderson; one sister, Judy Littel (husband Bob) of Anaheim, California; and one sister-in-law, Lamasha Mary Alice Adams of Indianapolis, Indiana. And mother-in-law Rosemary Adams.

He was preceded in death by his parents, one brother, his father-in-law, Paul D. Adams and his mother-in-law, Nadine C. Adams.

Visitation will begin at 9:00 a.m. followed by the Celebration of Life Memorial Service, led by the Reverend Dr. Monte Shinkle, at 11:00 a.m at Concord Baptist Church on Monday, November 13, 2017. Interment will follow at 2:00 p.m. Monday at Eldon City Cemetery in Eldon, Mo.

In lieu of flowers, memorial contributions are suggested to Concord Baptist Church, 3724 West Truman Blvd, Jefferson City, Mo. 65109.

Funeral arrangements are under the direction of Freeman Mortuary.

Order Flowers