Obituary for Alice Walquist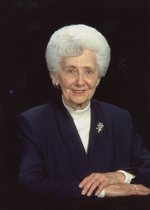 Mrs. Alice A. Walquist, of Jefferson City, Mo., died Friday, October 20, 2017 at her home at the age of ninety-five.

Alice was born October 5, 1922 in Lohman, Mo., the daughter of William J. and Anna M. Goldammer Linsenbardt. She was married on July 3, 1948 at St. Paul's Lutheran Church in Lohman, Mo. to Wayne R. Walquist who preceded her in death on October 20, 2009.

A lifelong resident of Central Missouri, Alice attended Enterprise School in the Lohman area.

Alice loved being a homemaker and was an active member of Trinity Lutheran Church where she enjoyed teaching Sunday School.

Survivors include: three sons, Randy W. Walquist and his wife Elaine of Spring, Texas, Rickey L. Walquist and his wife Mary of Lido Beach, New York, and Ross A. Walquist and his wife Jill of Hartsburg, Mo.; one sister, her best friend, Mabel M. Henderson of Jefferson City, Mo.; nine grandchildren, Kimberly Schleicher and her husband Matt, Amy Schleicher and her husband Jason, Andrew Walquist and his wife Sarah, Luke Walquist, Brielle Walquist, Macy Walquist, Rowan Walquist and his wife McKenzie, Kieron Walquist, and Rilee Walquist; eight great grandchildren, Ian, Ryan, Nathan, Jaden, Cody, and Adley Schleicher, and Abby and Ben Walquist.

She was preceded in death by her parents, her husband Wayne of sixty-one years, two brothers, Wilbert and Harold Linsenbardt, and two sisters, Ruby Huettenmeyer and Nadine Fischer.

Visitation will be at Trinity Lutheran Church from 12:00 Noon until 1:00 pm Tuesday, October 24, 2017.

Funeral services will be conducted at 1:00 pm Tuesday, October 24, 2017 at Trinity Lutheran Church with the Reverend Samuel Powell officiating. Interment will be at Hawthorn Memorial Gardens.
In lieu of flowers, memorial contributions are suggested to Trinity Lutheran Church or the Wayne and Alice Walquist Scholarship Fund at Concordia Seminary, St. Louis, Mo.



Order Flowers