Obituary for Franklin McDonald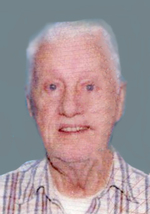 Mr. Franklin Vinal McDonald, 79, of Jefferson City, MO, passed away Thursday, October 5, 2017.

Frank was born on October 31, 1937 in Fort Fairfield, ME a son of James and Bessie (Scott) McDonald. He was married on October 23, 1993 in Campbell, CA to Ampie Ramones Bonoan.

He graduated high school from Fort Fairfield, ME and later moved to California and graduated from the University of California. Frank served in the United States Army from 1957-1959 and was employed with the Veterans Administration.

Survivors include: wife, Ampie McDonald of Jefferson City, MO; brother, Lewis McDonald (wife Erlinda) of Portland, ME; sisters, Elizabeth Vaught of Jefferson City, MO, Mary Johnson of Portland, ME and Leona Connors (husband George) of Portland, ME; numerous nieces and nephews, including Alma Watts (husband Rick) of Peoria, IL, Josie LaCiste of Texas and Mitchell Jocie of Toronto, Canada; and his beloved Yorkie, Shiloh.

He was preceded in death by his parents; brother, Arnold McDonald; and sisters, Eugenia McDonald Jiles and Evelyn McDonald Huard.

Visitation will be held at the Cathedral of Saint Joseph from 11:00 until 12:00 pm Wednesday, October 11, 2017 with Mass of Christian Burial at 12:00 pm with the Reverend Dylan Schrader officiating. Graveside services will follow at Riverview Cemetery.

In lieu of flowers, memorial contributions are suggested to the Frank McDonald Memorial Fund.

Order Flowers