Obituary for Keith White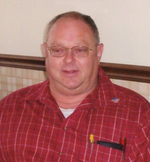 Keith Benjamin White, age 68 years, of Holts Summit, Mo., passed away Tuesday, October 3, 2017 at Capital Region Medical Center.

He was born on June 4, 1949 in Jefferson City, Mo. the son of Lewis Elmo and Roma Alma (Hilgedick) White. He was married on September 7, 1968 in Russellville, Mo. to Theresa Elizabeth Mary Libbert.

A lifelong resident of the central Missouri area, Keith was a 1967 graduate of Jefferson City High School. After graduation he served in the United States Army during the Vietnam War and was stationed in Fort Leonard Wood during those years.

Keith had been the Director of Buildings and Grounds with South Callaway School for almost 25 years retiring in 2013. Every year at Christmas Keith dressed up as Santa Claus while his wife, Theresa, dressed up as Mrs. Claus for the faculty and staff at the school. Before his time at the school, Keith owned Keith White's Refrigeration, worked at Lincoln University in maintenance, and taught heating and air conditioning classes at Nichols Career Center.

He was a member of the American Legion Roscoe Enloe Post 5, the Fraternal Order of Eagles, Aerie 2693, and the Holts Summit Retirement Club.

Keith was considered the "go-to" guy for family and friends who needed things fixed. Basically, if it was broken, he could fix it. He had a variety of interests that he loved: his dogs, Max and Molly, were very special to him and he enjoyed attending the Bouvier Dog Show to see other dogs of this breed; he not only enjoyed listening to live music but he could also be seen on Friday nights at the American Legion dances; car racing and swimming rounded out his interests. Anyone who knew Keith will tell you he had a great sense of humor and loved playing jokes on people.

Survivors include: his loving wife of 49 years, Theresa White; two sisters, Cathy Wyss Kliethermes of Eldon, Mo. and Corrine White Beakley and her husband John of Jefferson City, Mo.; four sisters-in-law, Judy Henson (husband Delbert) of Centertown, Mo., Dianna Cottrell (husband Andy) of Grant City, Mo., Patty Ruether (husband Don) of Russellville, Mo. and Carolyn Corum of Centertown, Mo.; two brothers-in-law, Bob Libbert (wife Sheri) of California, Mo. and David Libbert (significant other, Betty Jean) of Centertown, Mo.; numerous nieces and nephews and their children; and many cousins and other extended family.

He was preceded in death by his parents and his father and mother-in-law, Ralph and Loretta Libbert.

Visitation will be held from 10:00 a.m. until 12:00 noon Friday, October 6, 2017 at Freeman Mortuary.

A funeral service will be conducted at 12:00 noon Friday, October 6, 2017 in the Freeman Chapel with the Reverend Frank Whitney officiating. Graveside services with military honors will be held at Riverview Cemetery.

In lieu of flowers, memorial contributions are suggested to Shriners Hospitals for Children, 4400 Clayton Avenue, St. Louis, Missouri 63110.

Order Flowers