Obituary for Margaret "Margie" Janssen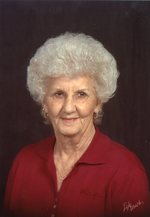 Margaret Jean "Margie" Janssen, age 91 years, passed away Thursday, September 21, 2017 at SSM St. Mary's Hospital.

Margie was born May 27, 1926 in Guthrie, Mo. a daughter of James B. and Bertha Vaughn Gray. She was married on November 8, 1946 in Fulton, Mo. to Donald R. Janssen who preceded her in death on November 14, 2011.

A lifelong resident of the Central Missouri area, Margie graduated from New Bloomfield High School. Margie was very active and played many sports. Margie enjoyed bowling, traveling, dancing, cooking and baking.

After high school, she worked with the Missouri Correction Center teaching Home Economics to the women, until she was employed by the Missouri Adjutant General's Office for many years prior to her retirement in 1990.

She was a member of the First Christian Church where she volunteered in the Food Pantry. She was a dedicated volunteer with the American Red Cross and was a blood donor providing the gift of life by donating twenty-six gallons of blood.

Margie enjoyed life to the fullest with her friends and family. She was the most beautiful, kind and loving person you would ever want to meet. She and Don had no children of their own, but she was a mother and grandma to many children. They had several by-proxy adopted children that they helped raise. She enjoyed playing dominoes and going out to eat with her closest friends, Mark and Lucille Copeland and Jim and Dorothy Gieck on Sundays. She deeply loved her long time friend and caregiver Cathy Zumwalt.

Survivors include: three sisters, Nellie Jones of Mexico, Mo., Jessie Snow of Holts Summit, Mo. and Dottie Farmer of Clark, Mo.; two brothers, Robert Gray and Billy Joe Gray both of Fulton, Mo.; a brother-in-law, Vernon Walther of Jefferson City, Mo.; and numerous nieces and nephews.

She was preceded in death by her parents, her husband of sixty-four years, Donald Janssen; four sisters, Myrtle Lee Copeland, Lorene Walters, Irene Thompson and Bonnie Bishop; and three brothers, John Gray, Paul Gray and Aubrey Gray.

Visitation will be held at Freeman Mortuary from 10:00 until 11:00 am Monday, September 25, 2017.

Funeral services will be conducted at 11:00 am Monday, September 25, 2017 at Freeman Mortuary with the Reverend Beau Underwood officiating. Graveside services will be held at Hawthorn Memorial Gardens.

In lieu of flowers, memorial contributions are suggested to the First Christian Church or the American Red Cross.

Order Flowers