Obituary for Randy Hoke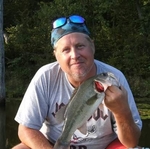 Harold "Randy" Hoke, age 52 years, of Jefferson City, Mo., passed away Sunday, September 10, 2017 at the Harry S. Truman Memorial Veterans Hospital following a courageous battle with cardiac disease that lasted nearly two decades.

Randy was born on December 17, 1964 in Fort Ritchie, MD, the son of Harold and Shirley (Joyce) Hoke. He grew up as a military brat living all over the world: Japan, Panama, Minnesota and Texas to list a few.

He was a 1983 graduate of Oliver Wendell Holmes High School, San Antonio, TX and followed his father's footsteps and joined the military. Randy chose to serve in the United States Army instead of the Air Force like his father to prove he could make it on his own. Upon his graduation, his father proudly presented Randy with his wings.

Randy was a hard worker and could handle any task. He worked as an over the road truck driver, a yard driver for Dollar General Distribution Center in Fulton, and warehouse inventory controller with Comcast Cable in Chicago, until ill health forced his retirement. Previous to that, Randy worked for SeaWorld in San Antonio, where he portrayed the character Shamu for various shows and events.

Randy was an avid fisherman and loved to travel on fishing trips with his buddies. He spent many hours on the banks of Binder Lake or the Missouri River, hoping for that big catch. He also was a passionate online gamer, serving as Commander of the online clan HellHounds, playing Armored Warfare, World of Tanks and World of Warships. As a result of his gaming, Randy has an online family from places all over the world.

Everyone who knew Randy knew he wasn't afraid to speak his mind, and spoke with the language of a sailor. He wore a tough exterior but everyone knew his heart was made of gold. He had an especially soft spot for his children, grandchildren and his partner of seven years, but he never met a stranger and touched the hearts of everyone who was fortunate enough to meet him. Randy was always the first person to offer help, encouragement, and advice, and his optimism and resilience never wavered.

Survivors include: his children, Steven Mendez of Weatherford, TX, Alicia Frye and Jose Rivas of Palmdale, CA, Joseph Frye of Shell Knob, MO, Dillon Hoke of San Antonio, TX and Sabrina Hoke and Andrew Koss of Santa Fe, NM; his sisters, Lisa and Bob Tonellato of Tacoma, WA, and Hiedi and Duane Wallenmeyer of Holts Summit, MO; his significant other, Lauri Elston of Jefferson City, MO; ten grandchildren; and numerous nieces and nephews.

He was preceded in death by his parents and brother, Gary Hoke.

A Celebration of Randy's Life will be held at 1:00 PM Friday, September 15, 2017 at the Mausoleum of Hawthorn Memorial Gardens.

In lieu of flowers, memorial contributions are suggested to the Randy Hoke Memorial Fund.
Order Flowers