Obituary for Dorothy Duncan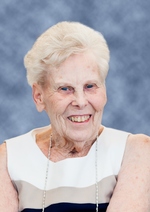 Dorothy Arlene (McKinney) Duncan, age 85 years, a long time resident of Jefferson City, Mo. died peacefully at her current home in Nashua, New Hampshire on July 27, 2017.

Dorothy was born on December 31, 1931 in Jefferson City, Mo. to Claude and Dorothy Margaret Bratten McKinney. She married Dick Duncan, on August 20, 1955 who preceded her in death on May 13, 2004. Together she and Dick raised three children. They were her greatest joy.

She attended schools in Jefferson City, graduating from Jefferson City Junior College in 1949. Dorothy worked several positions for the State of Missouri Division of Health and was a dedicated employee for 40 years.

Dorothy grew her faith within the local Baptist churches. She was a blessing to her church family by participating in the choir. She had a beautiful soprano voice and looked forward to sharing it with others. She was also a proud member of the Order of the Eastern Star, Victoria Chapter 14.

Dorothy loved sports, she especially enjoyed watching her children and grandchildren compete. She was a Cardinals fan. She loved the Red Sox and New England Patriots. She was a "find a word" expert and loved game shows, country music and was a ringer at Bingo. Before his passing, she and Dick traveled extensively throughout the United States. She enjoyed the company of her brothers-in-law and sisters-in-law often on these trips.

She is survived by two sons, Richard Kent Duncan and his wife Geraldine of Nashua, New Hampshire, whom she resided with for the past ten years and Charles Anthony "Tony" Duncan and his wife Dee of Jefferson City; one daughter, Rhonda Kaye Thyng and her husband Clark of Candia, New Hampshire; and one brother, Earl McKinney of Kansas City, Mo. She also leaves a legacy that includes ten grandchildren and five great-grandchildren, John Duncan, his wife Kaylen and their children Harper and Ronan, Brian Duncan, Kathleen D'Anjou, her husband Matthew, and their son, Patrick, William Duncan and his partner, Cassie Earley, Drew Duncan and his son Bryttan, Abby Duncan and her son Koba Dillie, Addison Thyng, Laurel Thyng, Mason Thyng and Noelle Thyng. She was very proud of her grandchildren and embraced her role as a great-grandmother in her later years. They will all remember her quick smile and uplifting laugh.

She will now be reunited with her husband, Charles Richard "Dick" Duncan, her parents, Claude and Dorothy (Bratten) McKinney and her sister, Betty Walker.

She will be laid to rest at 12:00 p.m. on Saturday, August 5, 2017 at the Mausoleum of Hawthorn Memorial Gardens in Jefferson City, Mo. A celebration of her life will be planned in the near future in New Hampshire.

Memorial donations can be made in her name to St John Neumann Church, Day Away Program, 708 Milford Rd, Merrimack, NH 03054. This is where Dorothy found a welcoming, fun, and loving community every Thursday.

Dorothy's arrangements are under the direction of Freeman Mortuary.
Order Flowers