Obituary for Brenda Heywood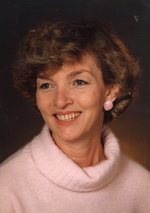 Brenda Sue Heywood, age 69 years, of Jefferson City, Mo., passed away Monday, July 31, 2017 at her home.

Brenda was born September 20, 1947 in Fulton, Mo. the daughter of George P. and Jessie (Moore) Bretthorst.

Brenda was a 1965 graduate of Jefferson City High School and received a degree in nursing from Lincoln University in 1978.

She was employed as a nurse for over 30 years and worked throughout the country. Brenda worked at Capital Region Medical Center as an ICU Supervisor in Jefferson City but moved several times throughout her career. She lived briefly in California, Ohio, New York, Oklahoma and Florida, but regardless of her travels, Brenda always thought of central Missouri as "home". She had many fond memories of spending time with family at the farm in Holts Summit and at Lake Champetra.

Brenda was an extremely creative person and enjoyed making crafts for family and friends. The holidays were her favorite time of year and she would often make Christmas wreaths and boxes of Christmas goodies to celebrate that time. She had a soft spot for any animals, especially cats, and never hesitated to help a stray animal. During free time, she always had the television tuned to any Turner Classic Movie.

Most importantly, she cherished time with her family and spoiling her grandchildren.

Survivors include: one son, Doug Schulte and his wife Jamie of Platte City, Mo.; one brother, Larry Bretthorst and his wife Pauline of Baldwin, Mo.; one sister, Angie Hunsaker and her husband Cameron of Jefferson City, Mo.; her step-father, Joe Lepper of Mary's Home, Mo.; three grandchildren, Lane Schulte, Eli Schulte, and Jacob Dean; three nieces, Lynn, Jessica, and Shelby; and several great nieces and nephews.

She was preceded in death by her parents and one daughter, Leslie Dean on July 7, 2015

Visitation will be held at Freeman Mortuary from 11:00 a.m. until 12:30 p.m. Friday, August 4, 2017.

A memorial service will be held at 12:30 p.m. Friday, August 4, 2017 in the Freeman Chapel.

In lieu of flowers, memorial contributions are suggested to Special Learning Center, 1115 Fairgrounds Road, Jefferson City, Mo. 65109 or the Jefferson City Animal Shelter, 2308 Hyde Park Road, Jefferson City, Mo. 65109.

Funeral arrangements are under the direction of Freeman Mortuary.
Order Flowers