Obituary for Virginia Moberly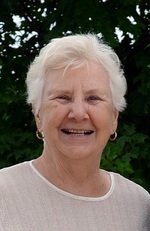 Virginia "Ginny" Lucille Rolen Moberly, age 83 years, of Jefferson City, Missouri, passed away Tuesday, July 25, 2017, at the University of Missouri Hospital in Columbia, Mo.

She was born February 25, 1934, in Thayer, Mo., to Ora Eveline (Hollis) and Jesse Evertt Rolen. She lived most of her adult life in Jefferson City as a dedicated wife, mother, grandmother, professional, and pursuer of life's joys.

Ginny had a head for numbers. She worked for the Bank of Thayer right out of high school…until, that is, after a Missouri–Arkansas romance of dancing and waterskiing, she married her husband of 60 years, James "Jack" Arthur Moberly. She and Jack lived in Baton Rouge, La., and Columbia, Mo., before settling in Jefferson City.

After working 15 years for the Missouri Department of Elementary and Secondary Education, Ginny went back to school and graduated suma cum laude in 1980, with a Bachelor of Science degree in finance from Lincoln University. As a C.P.A., she worked for the Missouri State Auditor's Office and then returned to DESE as an administrator in their school finance division. School districts across the state benefitted from her ability to bring order and fairness to their spending and record keeping. She served her home state of Missouri more than 30 years before retiring.

Ginny treasured her leisure time. She and Jack were unapologetically "snowbirds," spending cooler months in sunny Plant City, Florida, where family of Ginny's late brother Wayne still live. She was an avid reader of mysteries, a crossword puzzler, a crackerjack armchair "Wheel of Fortune" contestant, and a world traveler, full of stories from trips she and Jack took to France, Italy, Switzerland, and China.

Ginny was no stranger to the golf course (known to hit the occasional hole-in-one), the ESPN channel, or the bleachers. Depending on the season, she could be found watching or critiquing the latest Cardinals or Royals baseball game; Mizzou football or basketball; or cheering for her daughter Jana playing softball for the Central Missouri State Jennies (1980s). More recently, she delighted in rooting for her grandchildren in high school football, track, or volleyball, or middle school field hockey.

In fact, her grandchildren—and all of her family—were the greatest joys of her life.

Left to cherish her memory are her husband, Jack; her two daughters, Julie and her husband Steve Velotas of Norfolk, Va., and Jana and her husband Ken Forck of Taos, Mo.; her grandchildren, LCPL Jeremy Forck, USMC, Madison Forck of Taos, and Jaclyn and Meghan Velotas of Norfolk; her sister Melba Geiger of Hollister, Mo.; and more than 100 nieces, nephews, great nieces, and great nephews.

She was preceded in death by her son, Joe Michael; two sisters, Esther Langley and Thelma Hoyt; three brothers, Hurschel, Wayne, and Charles; and her parents. All will miss her laughter, her compassion, her zest for life and travel, her amazing cooking, her stylish sandals, and her loving hugs.

A visitation will be held at Freeman Mortuary Chapel from 5:00 p.m. until 7:00 p.m. Tuesday, August 8, 2017.

A private graveside service will be held at Riverside Cemetery in Mammoth Spring, Ar. at a later date.

In lieu of flowers, memorial contributions are appreciated to the Missouri USO, P.O. Box 10367, St. Louis, Mo. 63145-0367

Funeral Arrangements are under the care and direction of Freeman Mortuary.

Order Flowers