Obituary for Nina Coy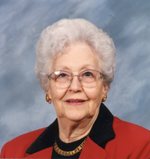 Nina R. Coy, age 91, of Jefferson City, Mo., went to be with the Lord on Saturday, July 22, 2017 at the University Hospital in Columbia, Mo. surrounded by her family.

She was born November 22, 1925 in Gravois Mills, Mo. the daughter of Herbert and Edna Wilson Landrum.

A lifelong resident of the Central Missouri area, Nina was a 1943 graduate of Gravois Mills High School and she attended Southwest Baptist College in Bolivar, Mo.

She was employed as an office assistant with the Remley Insurance Agency for many years prior to her retirement in 1989. After retirement, she was employed with the Missouri Division of Family Services for several years.

Nina was an active member of the First Presbyterian Church, a member of the Capital Region Auxiliary, and an active volunteer at the Clarke Senior Center.

She was a St. Louis Cardinal Baseball fan and enjoyed attending her grandchildren's sports games. She also loved to quilt.

Survivors include: her children, Dennis (Cari) Coy of the Lake of the Ozarks, Mo. and Eden (Larry) Davis of Bloomington, Il.; one sister, Thelma Brown of Lake Havasu, Az.; three grandchildren, Mandy (Matt) Hoener, Drew Davis and Abby Davis; and one great-grandchild, Brenden Hoener; and one brother-in-law, Leslie Pettit of Tulsa, Ok.

She was preceded in death by a son, David Coy, four sisters and one brother.

Visitation will be at the First Presbyterian Church, 324 Madison St., Jefferson City, Mo. from 10:00 am until 11:30 am Thursday, July 27, 2017.

A memorial service will be conducted at 11:30 am Thursday, July 27, 2017 at the First Presbyterian Church with the Reverend Dr. Robert Erickson and the Reverend Dr. David Henry officiating.

In lieu of flowers, memorial contributions are suggested to the First Presbyterian Church.

Order Flowers