Obituary for Karla Alberts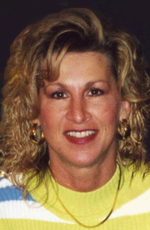 Mrs. Karla Jean Alberts, age 53 years, of Centertown, Missouri passed away Monday, July 17, 2017 at home surrounded by her family after a courageous battle with kidney cancer.

Karla was born on February 25, 1964 in Jefferson City, Missouri a daughter of Calvin and Darlene (Goff) Gerlach. She was married on May 12, 1984 in Jefferson City, Missouri to Dan Alberts.

Karla was a 1982 graduate of Jefferson City High School and went on to graduate as a Cosmetologist from Redel Institute of Beauty in 1983. Along with other continuing education classes, she was a certified "Look Good, Feel Better" trained volunteer who helped teach women with cancer how to cope with skin changes and hair loss.

A lifelong resident of the Cole County area, Karla was a cosmetologist for over 30 years until ill health forced her retirement in 2016. She most recently was employed with Hair Expressions for over 20 years but had worked at other salons in our area including, Hair Affair, the first salon where Karla worked, and also Heads Up, where Karla and Dan were co-owners. Her regular clients were true friends and Karla enjoyed visiting with them and catching up at each appointment.

Most importantly, Karla cherished time with her family. She loved cooking, being outdoors, especially all the annual camping trips with Dan and Kale along with numerous friends and family members. Spring and summer found Karla active in her yard and flower gardens. Karla was an animal lover who was devoted to her pets throughout the years. She enjoyed her daily walks with her beloved dogs.

Survivors include: her husband, Dan Alberts; one son, Kale Alberts of the home; her father and step-mother; Calvin Gerlach (wife Charlotte) of California, Missouri; her father and mother-in-law, Bill and Sue Alberts of Effingham, Kansas; and two sisters, Darla Gerlach of Anchorage, Alaska and Marla Murphy (husband Don) of Cabool, Missouri.

She was preceded in death by her daughter, Kaliene Alberts in 1993; her mother, Darlene Goff Gerlach; her maternal grandparents, Dorothy and Robert Goff; her paternal grandparents, Mabel and Arthur Gerlach; and one brother, Mark Gerlach, Sr.

Visitation will be held from 5:00 until 7:00 p.m. Thursday, July 20, 2017 at Freeman Mortuary with a Celebration of Karla's Life following at 7:00 p.m. in the Freeman Chapel.

In lieu of flowers, memorial contributions are suggested to the Kale Alberts Educational Fund.

Order Flowers