Obituary for Nicholas Canale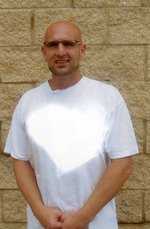 Mr. Nicholas Angelo Canale, age 42 years of Taos, Mo. passed away Tuesday, July 11, 2017.

He was born on October 2, 1974 in Jefferson City, Mo. the son of Robert Edward and Sharon Ann Duquette Canale.

A lifelong resident of the Central Missouri area, Nick attended Jefferson City High School.

He was employed with Rocan Construction. His position is best described as a laborer, as he handled various types of work on any given day.

Nicholas had a passion for working. He valued himself on the work he done and took pride in everything he did. Nicholas was more than the average person in every way. He loved working when it was snowing as it made him feel closest to his mother. Nicholas had excellent organizational skills. He enjoyed collecting hot wheels, antiques, and was great at customizing things. Nick was a Steelers fan and developed an appreciation for muscle cars, along with his dad and brother.

Nick, better known to his family as Nicky, was a character from a young age. He loved to make people laugh and was always the entertainer of the group. He had a unique gift of making people feel better and was always there to help others out even if all you needed was a good listener. Nick loved spending time with family. Nicky adored his family and would do anything for anyone who fell under that category. He embraced the relationship with his sister, Shelley. They loved to make fun of each other and laugh. They held each other together. Nicky also admired and respected his big brother, Rob. Rob was Nicky's greatest mentor and was eager to learn from him.

Survivors include: five children, Alexis, Ava, Carleigh, Andrew Luke and Bella Angel; two siblings, Rob and Shelley; three nephews, Chase, Addision and Nico; two nieces, Jade and Carley; and his girlfriend, Jennifer.

He was preceded in death by his parents.

A private family service will be conducted at a later date.
Order Flowers