Obituary for Monica Van Camp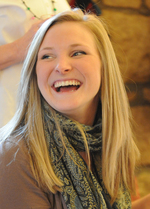 Monica Frances Van Camp, age 29 years, of Columbia, Mo., died Friday, July 7, 2017 at her home.

Monica was born October 21, 1987 in Jefferson City, Mo. the daughter of Douglas L. and Cynthia Hunter Van Camp.

A lifelong resident of the Jefferson City area, Monica was a 2006 graduate of Jefferson City High School and a 2011 graduate of the University of Missouri at Columbia.

She had been employed with Veterans United in Columbia, the Provisions Living Center in Columbia and Gatehouse Media in Hannibal, Mo.

Monica was a member of Zeta Tau Alpha sorority at MU and P.E.O., Chapter HM.

Monica was always grateful and inspired by the many places she was fortunate enough to travel to including destinations throughout the United States and abroad. As a student at the University of Missouri, she completed an internship in Sydney, Australia. She relished in discovering the customs, cultures and cuisines in faraway places like Greece, France, England, Italy and Mexico. Monica was always thankful for her opportunity to see and visit other places but always believed that the best place to be was at home with family and friends.

Monica was a compassionate person, especially when it came to animals, big and small. She doted on the pets in her life, including the dogs, Penelope, Hattie, Bailey and her pet rabbit, Rhonda.

Monica took pleasure in doing crafts of all kinds with her friends, but noted it was the time spent doing these activities with friends that she treasured most.

Survivors include: her parents, Doug and Cindy Van Camp of Jefferson City, Mo.; her brother Crosby Van Camp of Orlando, Florida; and her paternal grandmother, Marlene Van Camp of Edwardsville, Illinois.

She was preceded in death by her maternal grandparents, Bob and Sue Hunter and her paternal grandfather, Leonard Van Camp.

Visitation will be at Freeman Mortuary from 5:00 until 7:00 pm Friday, July 14, 2017.

A Celebration of Monica's Life will be conducted at 10:00 am Saturday in the Freeman Chapel. Graveside services will follow at Riverview Cemetery.

In lieu of flowers, memorial contributions are suggested to The Heart of Missouri Humane Society of Jefferson City.
Order Flowers