Obituary for James "Jim" Bryant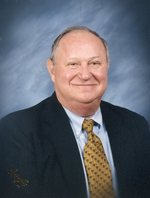 Mr. James G. "Jim" Bryant, age 84 years, of Jefferson City, Mo. passed away peacefully Wednesday, July 5, 2017 at Jefferson City Manor Care with family by his side.

Jim was born September 4, 1932 in Jefferson City, Mo. to the late Cecil H. and Norma D. (Wingate) Bryant. He was married to Jo Ann Copas in Jefferson City on December 12, 1986.

A lifelong resident of the central Missouri area, Jim was a 1950 graduate of Jefferson City High School and attended Jefferson City Junior College.

He served in the United States Air Force during the Korean War where he specialized in data processing. He later supervised the Data Processing Section at Whiteman Air Force Base and was honorably discharged as a Staff Sergeant.

James was employed by Farm Bureau Insurance Company for 10 years, becoming Assistant Supervisor of Data Processing and later one of the first Vice Presidents at Farm Bureau. He was also employed by Frontier Life and the Missouri Department of Conservation as a data processing manager, setting up accounting systems and computer equipment for company operations. He started his own insurance business, A.L. Williams Corporation, in 1981, and later founded Capital Insurance Group in 1987.

He was a member Concord Baptist Church and a member of Centertown Lodge #611 A.F. & A.M. where he served as Past Master.

Survivors include: his wife, Jo Ann Bryant; five children, James G. Bryant, II (wife Marty) of Edmond, Ok., Beth Dees (husband Mark) of Guthrie, Ok., Melinda Sherell (husband Jon) of Portland, Tx., Douglas Bryant (wife Gennie) of Edmond, Ok. and Lisa Bieri (husband Tim) of California, Mo.; two brothers, Harold Bryant of Wichita, Ks. and David Bryant of St. Louis, Mo.; nine grandchildren and numerous great-grandchildren.

Visitation will be at Freeman Mortuary from 10:00 until 11:00 am Tuesday, July 11, 2017 with a Masonic Service held at 9:45 am in the Freeman Chapel.

Funeral services will be conducted at 11:00 am Tuesday, July 11, 2017 in the Freeman Chapel with the Reverend Dr. Monte Shinkle officiating. Graveside services with military honors will be held at Longview Cemetery.

In lieu of flowers, memorial contributions are suggested to Concord Baptist Church.

Funeral arrangements are under the direction of Freeman Mortuary.
Order Flowers