Obituary for Luanne Bruss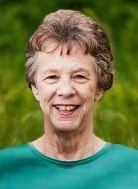 Mrs. Luanne Aleta Bruss, age 73 years, of Jefferson City, Mo. passed away Friday, May 5, 2017 at St. Joseph Bluffs.

Luanne was born on October 10, 1943 in Marseilles, Illinois a daughter of Louis and Aleta Farrell. She was married on June 10, 1967 in Ottawa, Illinois to George H. Bruss, who preceded her in death March 21, 2011.

Luanne graduated from Ottawa High School in Ottawa, Illinois and the University of Northern Illinois with a bachelor's degree. After college she was employed as a teacher for several years in Illinois before moving to Virginia to be with her husband, George, who was in the Navy.

George started his career in the nuclear energy field after he left the Navy, which took them around the country until eventually deciding to make Jefferson City their home. Luanne was happy to be a homemaker during this time and cherished time supporting her son. Once he was grown, she began her professional career as a Real Estate Agent with Century 21 Realty Company. During her retirement, she loved caring for her three granddaughters who brought her and George great joy.

Luanne was a longtime member of Grace Episcopal Church in Jefferson City, and when her health allowed, was active in many committees with the church.

She was an avid reader and had a thirst for gaining knowledge her entire life. She enjoyed challenging herself with daily word puzzles, traveling with her family to Michigan, and in her younger years, playing tennis and the piano.

Survivors include: one son, Eric Bruss and his wife Jill of Irmo, South Carolina; and three grandchildren, Alyssa, Kaelyn, and Hailey Bruss.

She was preceded in death by her parents; her loving husband of 43 years, George; her brother and sister-in-law, Alan and Ann Farrell.

Visitation will be at Freeman Mortuary from 3:30 until 4:30 p.m. Tuesday, May 9, 2017.

A celebration of Luanne's life will be conducted at 4:30 p.m. Tuesday in the Freeman Chapel with the Reverend Tony Alter officiating.

In lieu of flowers, memorial contributions are suggested to the Heisinger Bluffs' Christ Care Fund or St. Joseph Bluffs.

Funeral arrangements are under the direction of Freeman Mortuary.
Order Flowers