Obituary for Raymond Hagan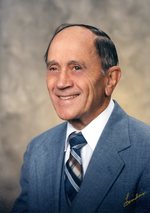 Mr. Raymond Dale Hagan, age 102 years, a Joplin resident and former Jefferson City resident, passed away Monday, May 1, 2017 at his daughter's home in Joplin, MO.

Ray was born March 5, 1915 in Mercer County, MO, the son of Ross and Pearle (Shirley) Hagan. On March 7, 1942 in Liberty, MO he married Juanita Wharton who preceded him in death on November 17, 1990. In 1992, he married Kathryn Kirtley who preceded him in death on August 23, 2005.

He graduated from the University of Missouri with a Bachelor of Science in Agricultural Education and Economics in 1939, and a Masters of Education in 1951. He completed additional graduate work at Michigan State University. He was a member of the Farm House Fraternity, the Alpha Tau Alpha Fraternity, and the Phi Delta Kappa Fraternity.

Ray was a chemist at American Agriculture Chemical Co. in St. Louis for two years, an instructor of Vocational Agriculture at Greenridge, Cainsville, and Princeton, MO, and served as District Supervisor of Vocational Agriculture Education in the Missouri State Dept. of Elementary and Secondary Education, for 44 years before his retirement in 1984. He was an adjunct professor at the University of Missouri.

He served as a flight instructor in the United States Army Air Forces during World War II.

Ray taught and helped develop the Farm Veteran's Program, served as Executive Secretary of the Missouri State Future Farmers of America, Superintendent of the FFA Department at the Missouri State Fair, Superintendent of the National FFA Convention Public Speaking Contest, Assistant Superintendent of the FFA Dept. American Royal Livestock and Horse Show. He received the Citation of Merit from the University of Missouri, was listed in "Who's Who in the Midwest" and featured in the "Missouri Ruralist". He authored many published articles. Mr. Hagan authored three books; "F.F.A. at 50 in Missouri", "Living Forever, Believing in What You Cannot See", and he recently published "My First One Hundred Years; Praying, Aiming High, and Staying Focused".

He was a charter member of the Missouri and National FFA Alumni Associations. He was a member of the First Methodist Church in Jefferson City where he served as Youth Director and on the Board. He was Secretary of the Mercer County Fair, Vice President of the Princeton Rotary Club and active in the Masonic Lodge and Shrine Club. After retirement Mr. Hagan served on President Reagan's Vocational Education Advisory Committee.

Survivors include: three daughters, Sharon Gonder and Jane Burd (husband Ron), both of Jefferson City, MO and Janice Wood (husband Jim) of Joplin, MO; one granddaughter, Patricia King of Jefferson City, MO; two great-grandchildren, LeeAnna Penn of Joplin, MO and Austin King of Jefferson City, MO; three great-great-grandchildren, Chase, Sierra and Gemma Penn; one step-son, Curt Kirtley (wife Julie) of Columbia, MO; one step-daughter, Kathy Grant (husband Mike) of Effingham, IL; five step-grandchildren and three step-great-grandchildren.

Mr. Hagan was preceded in death by three sisters, Jesse Lafollette, Vee Alley, and Reva Cornett; three brothers, Albert Hagan, Raycel Hagan, and Darrell Hagan, one grandchild, Jeffery Steenburgen, and one son-in-law, Glen Gonder.

Visitation will be from 10:00 a.m. until 11:30 a.m. Saturday, May 6, 2017 at First Assembly of God, 1900 Route C, Jefferson City, MO 65109.

A funeral service will be conducted at 11:30 a.m. Saturday, May 6, 2017 at First Assembly of God with the Reverend Larry Griffin officiating. Gravesides services with military honors will follow at Riverview Cemetery.

An additional memorial service will be held at 6:30 p.m. next Friday, May 12, 2017 at Faith Assembly of God, 7211 East 32nd Street, Joplin, MO 64804.

In lieu of flowers, memorial contributions are suggested to the Hagan FFA Alumni Scholarship Fund, Missouri FFA Association, P.O. Box 480, Jefferson City, MO 65l02.

Funeral arrangements are under the direction of Freeman Mortuary.

Order Flowers