Obituary for Lee Bowman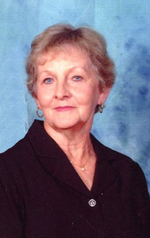 Mrs. Dorothy Lee Bowman, age 86 years, of Jefferson City, Mo., died Thursday, April 27, 2017 at S.S.M. Health St. Mary's Hospital.

Dorothy Lee was born March 31, 1931 in Jefferson City, Mo. the daughter of Leo and Dorothy Becker Otke. She was married on January 19, 1952 in Wardsville, Mo. to Vaughn Bowman.

A life long resident of the Jefferson City area, Dorothy Lee attended St. Stanislaus School in Wardsville and was a 1949 graduate of St. Peter High School.

After their marriage, she lived in Jefferson City and started their family of four children. As the children came of school age, she was active in school activities as a room mother, Cub Scout den mother, and with the home and school association. She was also active in St. Peter Church, including spending one hour a week in the Chapel of Perpetual Adoration of the Lord.

She was then employed for several years retiring from her last employment as an Administrative Assistant in the General Counsel's Office of the Missouri Dept. of Revenue in 1992.

After retiring, she volunteered at the Runge Nature Center. Their family enjoyed everything about nature including camping, fishing, hunting, playing golf, dancing, watching all the birds at their feeders, the beautiful wildflower and their pets. She cherished her time with her family and her extended family.

Survivors include: her husband of sixty-five years, Vaughn Bowman; two sons, Daniel (Regina) Bowman of Lake Ozark, Mo. and Timothy Bowman of Jefferson City, Mo.; two daughters, Connie Davis of Jefferson City, Mo. and Brenda (Sonny) Jungmeyer of Russellville, Mo.; three brothers, Tom (Diana) Otke of Lake Ozark, Mo., Ken (Bernie) Otke of Wardsville, Mo., and Dick (Dedie) Otke of Jefferson City, Mo.; one sister, Barbara (Bill) Bickel of Arizona; one sister-in-law, Janet Otke of Jefferson City, Mo.; nine grandchildren, Justin Davis, Amy Meller, Danielle (Craig) McElwaine, Ryan (Shelly) Bowman, Leah (John) Kempker, Bo Hoelscher, Mikala Jungmeyer, Kevin Jungmeyer and Angie (Will) Galliher; seven great grandchildren, Chase Pistel, Shayna Meller, Piper Lea Dudenhoeffer, Rowan McElwaine, Tristen Bowman, Billi Galliher and Mason Kempker; and many nieces, nephews, cousins, and other family members and friends.

She was preceded in death by her parents, one brother, Louis Otke, one sister, Rosemarie Ramsey, two granddaughters, Christy Pistel and Kelly Hoelscher and her beloved rescue dog, Zoe.

Visitation will be at Freeman Mortuary from 4:00 until 7:00 pm Tuesday, May 2, 2017 with a prayer service to be conducted at 3:15 pm in the Freeman Chapel.

A Mass of Christian Burial will be conducted at 11:00 am Wednesday, May 3, 2017 at St. Stanislaus Catholic Church in Wardsville, Mo. with the Reverend I. C. Medina officiating. Private entombment will be at Resurrection Cemetery.

Dorothy Lee requests no flowers, rather masses of donations to the charity of the donor's choice.

Order Flowers