Obituary for Samuel "Sam" Overfelt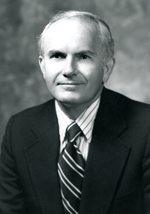 Mr. Sam E. Overfelt, age 87 years, of Jefferson City, Mo., died Tuesday, April 18, 2017 at his home.

Sam was born September 27, 1929 in Fayetteville, Arkansas the son of Samuel E. and Agnes Bradshaw Overfelt. His parents were native Missourians and moved to the newly formed Lake of the Ozarks when he was a baby. He was married on May 25, 1957 in Springfield, Mo. to Gloria Lucas.

Sam was a 1947 graduate of the School of the Osage and a 1951 graduate of the University of Central Missouri at Warrensburg, Mo. and a 1956 graduate of the University of Missouri at Kansas City with a Juris Doctorate. Sam and Larry Fitzgerald were co-editors of the UMKC Law Review. In the Spring of 1956 Sam received a personal letter from former President Harry S. Truman that read in part "In My Opinion you have analyzed the situation perfectly, and when history is finally written, I believe your viewpoint, and mine, will be vindicated." That letter was encouraging.

He served in the Army during the Korean War and after being drafted was assigned to the Central Intelligence Agency.

Sam had a private law practice in Springfield, Mo. for several years and also served as an Assistant Attorney General under Attorney General John M. Dalton prior to being a lobbyist and Chief Legal Counsel to Governor John M. Dalton. Later, he was an attorney for Standard Oil Company in Chicago, Illinois and was General Counsel for the Missouri Bankers Assn.

From 1971 until his retirement in 2005, Sam was President and Chief Legal Counsel for the Missouri Retailers Assn.

Sam was a member of the Missouri Bar Association, Chalice Bearer, and Vestry member of Grace Episcopal Church; member and former President of the Missouri Assn. of State Troopers Emergency Relief Society; past member and chairman of the Missouri counsel of Economic Education; a former member and past president of the Jefferson City Country Club; a past chairman of the Jefferson City Area United Way; and a former member of the B.P.O of Elks in Springfield, Mo. Sam also worked in a number of statewide issues and political campaigns.

Sam had a dry, joyful sense of humor. He was an encouraging example of what serving others looked like as he and Pat Sanders served as co-chairs of the committee of Citizens for the area vocational school bond issue of November 20, 1973 that carried by an overwhelming percentage of 94.5 favorable vote. They received enthusiastic cooperation of many citizens. A lifetime achievement for our community-The Nichols Career Center.

Sam took his sons to many pro football, hockey and baseball sporting events to see some of history's greatest athletes. His sons also remember the trips to Wyoming and some of the other adventures to see the wonders of the U.S.A. Sam and Gloria visited all 50 states, traveled to Europe with close friends Bev and Jim Schmidt and enjoyed life together. They were approaching their 60th year wedding anniversary.

Survivors include: wife Gloria Overfelt; three sons, Craig L. Overfelt of Jefferson City, Mo., Eric E. Overfelt and his wife Cathy of Havelock, North Carolina, and David S. Overfelt and Shu Ye of Jefferson City, Mo.; six grandchildren, David L. Overfelt and Nikki of Columbia, Mo., Christine Overfelt and Scott of Columbia, Mo., Spencer Overfelt of St. Louis, Mo., Erica Overfelt of Jefferson City, Mo., J.M. Overfelt and Andrea Overfelt of Havelock, North Carolina, and sister-in-law, Lueda Lucas of Springfield, Mo.

He was preceded in death by his parents, his mother and father-in-law, his brother-in-law, Bill Lucas, and daughter-in-law, Deann Overfelt.

A private family memorial service will be conducted at a later time.

In lieu of flowers, memorial contributions are suggested to Hospice Compassus at 600 Monroe Jefferson City, Mo or Missouri Association of State Troopers Emergency Relief Society at 5287 Hwy 67 North Popular Bluff, Mo.

Order Flowers