Obituary for Ernest Barnhart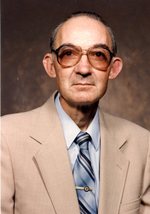 Mr. Ernest Ray Barnhart, age 82 years, of Jefferson City, Mo. passed away after a lengthy illness on Monday, April 17, 2017 at Maries Manor in Vienna, Mo.

He was born on December 10, 1934 in Jefferson City, Mo., and was the only child of the late William and Bonnie (Wilson) Barnhart. He was married on June 10, 1978 in Jefferson City to Janice Highley, who preceded him in death on December 2, 2007.

Ernest accepted Christ as his Savior at the age of thirteen. He was passionate about spreading the gospel, and that was manifested through his and Janice's love of scripture and sharing it through gospel tracts. He was baptized at the Ricker Memorial Nazarene Church in Van Cleve near Meta and served as a Sunday School Superintendent.

A lifelong resident of the Central Missouri area, Ernest attended school in Van Cleve and also Vienna High School. He enlisted in the United States Army in 1957 and served as a courier in the 97th Signal Battalion.

He was employed with Brown Shoe Company for over 30 years, and was also employed as maintenance with the Missouri National Guard for over 14 years.

Ernest was an active member of SPBMA (Society for the Preservation of Bluegrass Music of America). In September of 2000, Ernest fulfilled their lifetime dream of building a Blue Grass Park on their farm in Meta. He gave Janice her gazebo and she gave Ernest his catfish lake. They enjoyed many years of traveling together and attending the annual US Army 97th Battalion reunion. He also enjoyed fishing, photography and hunting. After Janice was diagnosed with cancer, he became very active in sponsoring her Relay for Life team and as a fundraiser recycled aluminum cans for the American Cancer Society.

Survivors include: his cousins, Rev. James M. Seaton of Dixon, Mo., Gene Wilson of Meta, Mo., Dollie Mae Wilson of Jefferson City, Mo., Edris Horn of Jefferson City, Mo. and Charles Lewis Barnhart of Meta, Mo.; and special friends, Elmer and Judy Redcay of Jefferson City, Mo.

Visitation will be held at Freeman Mortuary from 10:00 until 11:00 am Thursday, April 20, 2017.

Funeral services will be held at 11:00 am Thursday, April 20, 2017 in the Freeman Chapel with the Reverend James M. Seaton officiating. Graveside services with military honors will follow at Hawthorn Memorial Gardens.

In lieu of flowers, memorial contributions are suggested to the Ernest Barnhart Memorial Fund.

Order Flowers