Obituary for Peggy Lusk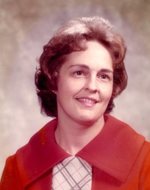 Mrs. Peggy Rhodes Lusk, age 79 years, of Linn, Mo., formerly of Jefferson City passed away Saturday, April 15, 2017 at the Linn Living and Rehabilitation Center. Linn, Mo.

Peggy was born June 24, 1937 in Tacoma, Washington the daughter of Vance V. and Helen DeEtte (Waldie) Van Woert. She spent much of her childhood along the U.S. and Canada border and in Tacoma.

She graduated high school in Curlew, Washington and met Arthur Rhodes while he was serving in the United States Air Force. They were married on June 10, 1955 in Republic, Washington. They would later relocate to Jefferson City when Arthur took a job with the Missouri Highway Department. While in Jefferson City, Peggy made it home and met several people while starting her own business, Rhodes Ceramics Shop. She later worked at Czarlinsky's Clothing Store, worked as an office assistant for Dr. Davidson, and as a sales assistant at Frenchie's Antique Mall & Café in Apache Flats.

She later married David Lusk in Jefferson City, Mo. on March 21, 1976 and they would eventually move to Washington. While living back in the northwest region, she became owner and operator of "DLP Furniture Stripping" and eventually the manager of the Cenex gas station located on Pacific Avenue and 118th St. in Parkland, Washington.

She was a member of Spanaway Assembly of God and later Christ's Vineyard churches.

During her retirement she decided to move back to central Missouri so she would be closer to her children's families. Her family was always the most important thing to her and she wanted to be closer to family.

When she was younger, she was active as a Rainbow Girl where she served as Worthy Advisor for the Republic Assembly. She later became a member of the Order of the Eastern Star, Jefferson Chapter #496. She always possessed a strong faith throughout her life and attended Christian Fellowship of Jefferson City and Trinity Lutheran Church.

She enjoyed channeling her creative energy through ceramics, painting, and sewing. She also would spend hours researching genealogy and pass the information along to her family.

Survivors include: two sons, Jerry Rhodes and his wife Cristina of Bartlesville, Oklahoma and Darryl Rhodes of California, Mo.; one daughter, Michelle Kutscher of Moberly, Mo.; one sister, Coralie Rose and her husband Ozzie of Salem, Oregon; brother-in-law, Stanley Crandall of Williams Lake, British Columbia, Canada; seven grandchildren, Benjamin Rhodes, Abigail Rhodes, Jessica Rhodes, Amber Rhodes, Patricia Rhodes, Zachary Kutscher and his wife Katie and Austin Kutscher; and three great-grandchildren, Coraline Rhodes, Parker Kutscher, and Hunter Kutscher.

She was preceded in death by her parents; her husbands, Arthur and David; and one sister, Vanette Crandall.

Visitation will be at Freeman Mortuary from 4:00 until 7:00 p.m. Friday, April 21, 2017.

Funeral services will be conducted at 10:00 a.m. Saturday, April 22, 2017 at Trinity Lutheran Church with the Reverend Samuel Powell officiating. Graveside services and interment will be held at Riverview Cemetery.

In lieu of flowers, memorial contributions are suggested to the Alzheimer's Assn. Greater Missouri, 3645 S. Ave., Springfield, MO 65807 or Trinity Lutheran Church, 803 Swifts Highway, Jefferson City, MO 65109

Funeral arrangements are under the direction of Freeman Mortuary.
Order Flowers