Obituary for Joseph Faber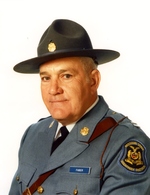 Captain Joseph E. Faber, age 86 years, of Jefferson City, Mo., passed away Friday, April 14, 2017 at Heisinger Bluffs surrounded by the family.

Joe was born February 5, 1931 in Desloge, Mo. the son of George and Geneva (Thurman) Faber. He was married on December 1, 1972 in St. Louis, Mo. to Anna M. (Scego) Elsenrath.

Joe was a 1949 graduate of Desloge High School prior to serving in the United States Navy during the Korean Conflict. During his service he was stationed on the USS Midway and the USS Lake Champlain, which took him to ten different countries and a memorable trip through the Suez Canal.

Following his service in the Navy, Joe served for thirty-five years in the Missouri State Highway Patrol serving at Troop C, Troop E, Troop F, Troop A, and the General Headquarters retiring as a Captain on June 1, 1990. During his career, he was in charge of the Motor Vehicle Inspection Department and helped write the manual for state vehicle inspections.

He was a member of the Cathedral of St. Joseph and with his love of music, he enjoyed singing in the church choir. He was a 4th Degree member of the Knights of Columbus; a member of the MASTERS; and the American Legion, Roscoe Enloe Post 5.

Joe cherished time hunting, fishing, and playing golf with his friends and family. He enjoyed RVing at Kentucky Lake, Truman Lake and throughout the US and Canada.

Survivors include: his wife of forty-four years, Ann Faber; four sons, Timothy (Tammie) Faber of Battle Creek, Michigan, Kevin (Connie) Faber of Battle Creek, Michigan, Keith (Andrea) Faber of Celina, Ohio, and Terry (Sue) Elsenrath of St. Louis, Mo.; four daughters, Terri (Thomas) Faber Moore of Waynesville, Mo., Sandy (Gary) Sherman of Mexico, Mo., Connie (David) Vaughan of Jefferson City, Mo., and Joan (Gary) Grojean of Blue Springs, Mo.; twenty-two grandchildren and fifteen great grandchildren.

He was preceded in death by his parents; one sister, Betty Clark; and three infant grandchildren, Kyle, Abigail, and Bradley Faber.

Visitation will be at Freeman Mortuary from 4:00 until 6:00 pm Sunday, April 23, 2017 with a prayer service to be conducted at 3:15 pm in the Freeman Chapel.

A Mass of Christian Burial will be conducted at 10:00 am Monday, April 24, 2017 at the Cathedral of St. Joseph with the Reverend Joshua Duncan officiating. Graveside services and entombment with military honors will be held in the Mausoleum of Resurrection Cemetery.

Those desiring may make memorial contributions to the Alzheimers Disease and Related Disorders Association; the Heisinger Bluffs' Christ Care Fund; or Hospice Compassus.

Order Flowers