Obituary for Bertha Gerling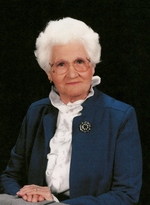 Mrs. Bertha C. Gerling, age 97 years, of Jefferson City, Mo., fortified with the sacrament of the Holy Mother Church was called to her heavenly reward on Friday, April 14, 2017.

Bertha was born September 20, 1919 in Jefferson City, Mo. the daughter of Tony and Laura Kerperin Walters. She was married on May 28, 1940 in Jefferson City, Mo. to August "Gus" Gerling who preceded her in death on February 4, 1978.

A life long resident of the Jefferson City area, Bertha spent her life as a mother and homemaker and was employed for a number of years as a clerk with the Milo Walz Hardware Store.

Before her health began to fail, she was an active member of the Catholic Community in Jefferson City.

Survivors include: six sons, Larry (Brenda) Gerling of Independence, Mo., Bill Gerling of Jefferson City, Mo., Deacon Tom (Margaret) Gerling, Ed.D of House Springs, Mo., Dick Gerling of Jefferson City, Mo., Alan (Diana) Gerling of Jefferson City, Mo., and John Gerling of Fulton, Mo.; one brother, Bill Walters of Byron, Illinois; nineteen grandchildren, thirty-eight great grandchildren and three great great grandchildren.

She was preceded in death by her parents and her husband.

Visitation will be at Freeman Mortuary from 4:00 until 6:00 pm Thursday, April 20, 2017 with a prayer service to be conducted at 3:15 in the Freeman Chapel.

A Mass of Christian Burial will be conducted at 10:00 am Friday, April 21, 2017 at Immaculate Conception Church with the Reverend Cesar Anicama officiating. Entombment will be in the Mausoleum of Resurrection Cemetery.

In lieu of flowers, memorial contributions are suggested to the Fulton Presbyterian Manor in Fulton, Mo. or the Special Olympics.

Funeral arrangements are under the direction of Freeman Mortuary.

Order Flowers