Obituary for Michael DeClue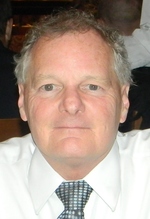 Mr. Michael C. DeClue, age 65 years, of Jefferson City, Mo. passed away Friday, April 7, 2017.

Mike was born on November 10, 1951 in St. Louis, Mo. a son of Charles H. and Lorraine K. (Turntine) DeClue. He was married to Sue Fendler DeClue from October, 1975 to June, 2015.

Mike was a 1970 graduate of St. John the Baptist High School and in 1973 received his nursing degree from Lutheran School of Nursing, both in St. Louis, Mo. He graduated from Lincoln University in 2004 with his bachelor's degree in nursing.

With his background in nursing, Mike was employed for over 25 years with the state of Missouri as a healthcare inspector. He worked with various state agencies through his career and inspected hospitals and nursing homes throughout the state. In 2015, he retired as a Quality Management Nurse Specialist from the Missouri Veterans Commission where he inspected state Veteran hospitals.

He was a faithful member of Immaculate Conception Church and active with various organizations within the church. After his retirement he assisted with daily maintenance of the rectory at Immaculate Conception Church and enjoyed his fellowship with the priests. He was a member of the Knights of Columbus, Pleus Council.

During his free time, Mike was an avid reader and enjoyed cheering on the St. Louis Cardinals. Above all he cherished time with his family, especially spending time with his children and grandchildren.

Survivors include: one son, James Michael DeClue of Jefferson City, Mo.; three daughters, Jessica Elder (husband Michael) of St. Louis, Mo., Rachel Ndessokia (husband Robert) of Columbia, Mo. and Emma Dixon (husband Michael) of Jefferson City, Mo.; one brother, Mark DeClue (wife Cindy) of St. Louis, Mo.; five sisters, Sharon Kerber, Janice Mann, Janet Williams (husband Rick), Susie Caldera, and Judi Jefferson, all of St. Louis, Mo.; six grandchildren, Meghan, William and Lane Elder, Reese and Rory Ndessokia, and Hadley Dixon.

He was preceded in death by his parents; two brothers, Greg DeClue and David DeClue; and one sister, Mary Beth DeClue.

Visitation will be held at Freeman Mortuary from 4:00 until 7:00 p.m. Monday, April 17, 2017 with a prayer service conducted at 3:30 p.m. in the Freeman Chapel.

Mass of Christian Burial will be conducted at 10:00 a.m. Tuesday, April 18, 2017 at Immaculate Conception Church with the Reverend Don Antweiler officiating. Graveside services and inurnment will be held at Resurrection Cemetery.

In lieu of flowers, memorial contributions are suggested to Immaculate Conception Church, 1206 E. McCarty Street, Jefferson City, Mo. 65101

Funeral arrangements are under the direction of Freeman Mortuary.
Order Flowers