Obituary for Ralph "Rick" Franklin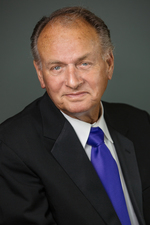 Mr. Ralph R. "Rick" Franklin, age 71 years, of Jefferson City, Mo., died Friday, April 7, 2017 at the Harry S. Truman Veterans Hospital, Columbia, Mo.

Rick was born June 26, 1945 in Joplin, Mo. the son of Ralph F. and Clarice I. Jackson Franklin. He was married on July 31, 2004 in Jefferson City, Mo. to Leslie Siebeneck.

Rick graduate from Blue Eye High School in Blue Eye, Mo. and was a 1967 graduate of the University of Arkansas where he played on the football team.

He owned and operated Rick Franklin Amusement and Arcade Company for many years until ill health forced his retirement.

Rick was an active member of the Fraternal Order of the Eagles, Aerie 3948 and the American Legion.

Rick joined the Aurora Eagles #3948 in 1982. He served as the Local President in 1994-95. From there he moved to the State Level serving as Worthy President in 2003-2004. In 2004 he was appointed to the Grand Justices and has served as a Justice for 12 years, serving as Chief Justice 3 different times. In 2010 Rick was appointed South Central Regional President by Grand Worthy President Phil Tice. In 1998 after suffering a stroke Rick started the Annual Wheel Chair Run/Walk raising over $54,000 for charities chosen by the State Presidents. In 1996 Rick organized a group of people from 4 different stats to start a Conference. That Conference held its first meeting in April of 1998 known as the MINK Conference, comprised of Missouri, Iowa, Nebraska and Kansas. Several years ago the Dakotas' were added and that conference is still going strong and will celebrate its 20th Anniversary in 2018. He was an Honorary Member of the Aurora Eagle Riders. In July Ralph will be inducted into the Grand Aerie Hall of Fame.

He loved the outdoors and was an accomplished gardener especially growing roses. Most importantly, he cherished time with his family.

Survivors include: his wife of twelve years, Leslie Franklin; one son, Jimmy F. Franklin of Lakewood, Colorado; one sister, Pat Sossamon and her husband Burle of Webb City, Mo.; three grandchildren, Justin Franklin of Alma, Arkansas, Connor Franklin of Lakewood, Colorado, and Shae Franklin of Alma, Arkansas; and three great-grandchildren.

He was preceded in death by his parents.

Visitation will be at Freeman Mortuary from 4:00 until 6:00 pm Wednesday, April 12, 2017 and will conclude with military honors at 6:00 pm.

In lieu of flowers, memorial contributions are suggested to the Missouri State President's Charity for the Ronald McDonald House.

Order Flowers