Obituary for Mary Smith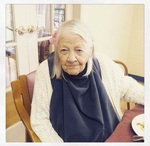 Mrs. Mary Livingston Smith, age 99 years, of Jefferson City, Mo., passed away Wednesday, April 5, 2017 at River City Living Community.

She was born on October 9, 1917 in Hershey, Pennsylvania a daughter of the late Ignatz and Marianna (Kolodziej) Matwyuk. She was married in Pennsylvania to William Livingston, who preceded her in death in 1985. She then remarried Jack Smith in Munfordville, Kentucky.

Mary was employed with the Bank of Detroit and later with Herman's Sandwich Company.

She enjoyed making crafts, gardening and cooking. Mary passed down to four generations her Polish recipes, family values, and the joy of laughter.

Survivors include: a daughter, Betty Lou Cottrell of Jefferson City, Mo.; a son, Robert James Livingston; a granddaughter, Mary Ann DeRosa of Holts Summit, Mo.; a grandson, Robert Wager of Kentucky; four great-grandchildren; and three great-great-grandchildren.

She was also preceded in death by three brothers, two sisters and four grandchildren.

Graveside services will be held at 11:00 am Wednesday, April 12, 2017 at Elizabethtown Memorial Gardens, 3817 Leitchfield Road, Cecilia, Kentucky 42724

In lieu of flowers, memorial contributions are suggested to the Alzheimer's Association.

Order Flowers