Obituary for Rita Woodward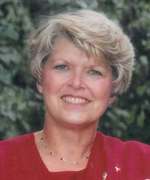 Mrs. Rita Karen (Hansen) Woodward, age 65 years, of Springfield, Mo. a former Jefferson City resident, went to be with her Lord and Savior Saturday, April 1, 2017.

Rita's love for Jesus and love for her family defined her, and were reflected in every aspect of her life.

Born in 1951, Rita grew up on the family farm and attended a one room school until eighth grade. She was a 1969 graduate of North Loup Scotia High in Scotia, Nebraska, and immediately following graduation, started a yearlong beauty school in Lincoln, Nebraska.

Following a blind date and a year of dating, Rita married Harold Woodward on November 8, 1970 in Scotia, Nebraska. During Rita and Harold's early years in Elba, Nebraska, Rita enjoyed a large garden and she always made sure their neighbors and hired help had a huge spread of food to keep them going. They welcomed their first child, Dianna Lynn, on the farm in 1972.

In her early 20's, Rita began a battle with breast cancer. Rita beat cancer and was the first woman on record at M.D. Anderson to continue her family following extensive chemotherapy and radiation treatments. Rita and Harold went on to have three boys, Justin Reed (1980), Matthew Duane (1982), and Brian Wayne (1986).

Over the years, Rita made her home in Iowa, Ohio, Illinois, Kentucky, and finally Jefferson City, Mo. Her commitment to her family and involvement in church were her mainstay. Rita loved to share with others her gift of hospitality and was involved in Christian Women's Fellowships groups in every city in which they lived. She loved sharing homemaking advice, authoring cookbooks, and encouraging young women through programs such as Apples to Gold.

Rita invested generously in the lives of those around her. Her legacy will be defined by her deep compassion and the unconditional love she held for her children and grandchildren.

Survivors include: her loving husband of 46 years, Harold Woodward; three sons, Justin Reed Woodward (wife Janelle) of Miami, Fl., Matthew Duane Woodward (wife Jennifer) of Mt. Vernon, Mo., and Brian Wayne Woodward of Kansas City, Mo.; her mother, Mary Jane Hansen of Scotia, Nebraska; three brothers, Galen Stanley Hansen (wife Lois) of Scotia, Nebraska, Gary Hansen (wife Cathy) of Scotia, Nebraska, and Harlan Hansen (wife Colleen) of Scotia, Nebraska; six grandchildren, Cole, Reed and Lyle Woodward of Miami, Fl. and Grayson, Harper, and Thatcher Woodward of Mt. Vernon, Mo.; and numerous nieces, nephews, and cousins.

She was preceded in death by her father, Duane Hansen in 1985 and her daughter, Dianna Lynn Woodward on September 16, 2006.

Visitation will be held at Concord Baptist Church from 5:00 until 7:00 p.m. Tuesday, April 4, 2017.

Funeral services will be conducted at 10:00 a.m. Wednesday, April 5, 2017 at Concord Baptist Church with the Reverend Dr. Monte Shinkle officiating. Graveside services and interment will be held at 10:00 a.m. Thursday, April 6, 2017 at Mt. Hope Cemetery in Scotia, Nebraska.

Those desiring may make memorial contributions to Concord Baptist Church, 3724 W. Truman Blvd., Jefferson City, Mo. 65109.

Funeral arrangements are under the direction of Freeman Mortuary.
Order Flowers